Brighten up and organise your reading corner
Wanting to organise your reading corner? You've come to the right place. Whether you have an existing corner that needs a revamp, or you want to create a new one, these simple tips will have your pupils excited to read.
Creating the perfect space for your pupils to enjoy is crucial for their reading experience. The small touches can go a long way. From choosing the right colour scheme, furniture, cushions and paint, here's some tips to help you create, brighten and organise your reading corner.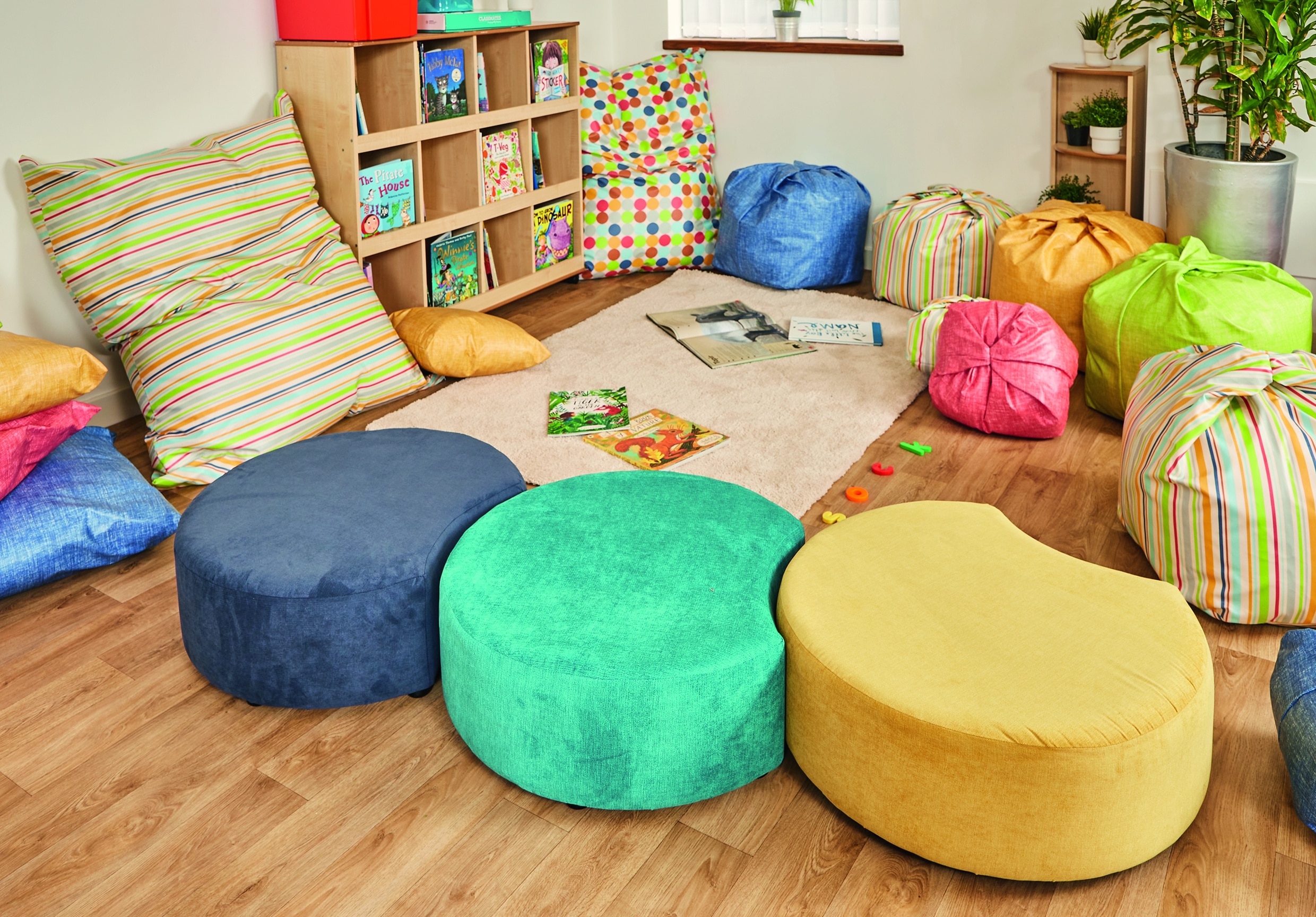 All about comfort
It's a good idea to make the area comfortable If you want to encourage children to read. A huge part of this is the furniture that is used. You need to make sure the furniture is comfortable, opt for padded seating such as sofas or armchairs. To make the reading corner more comfortable for your students think about cushions for support and throws or blankets that they can snuggle into. You may also want to add a few homely touches such as plants or artwork to help the calming atmosphere. Your students will appreciate the relaxing environment, that differs from the rest of the classroom, enticing them to read more!
Keeping it clean
To ensure a safe environment for your reading corner, you can get beanbags that are coated in antimicrobial treatment to help stop the spreading of germs. Use fabrics that are waterproof and easy to clean such as this Wipe Clean Soft Pink Large Floor Cushion, which is ideal for the school environment.
Choosing the right colour
It is so important to choose the right colour for a reading corner as colour is highly influential in creating a supportive classroom. It impacts student's attention, concentration, calmness and creativity. Colour can change children's mood, health and performance too. Each colour links to a range of moods and feelings such as: Grey= balance and calm, Green= peaceful and health, Purple= creative and wise and Red= excitement and bold. For a reading corner, the colour scheme should steer clear of the bold and bright colours as these distract from the overall atmosphere that needs to be created (calm and relaxing).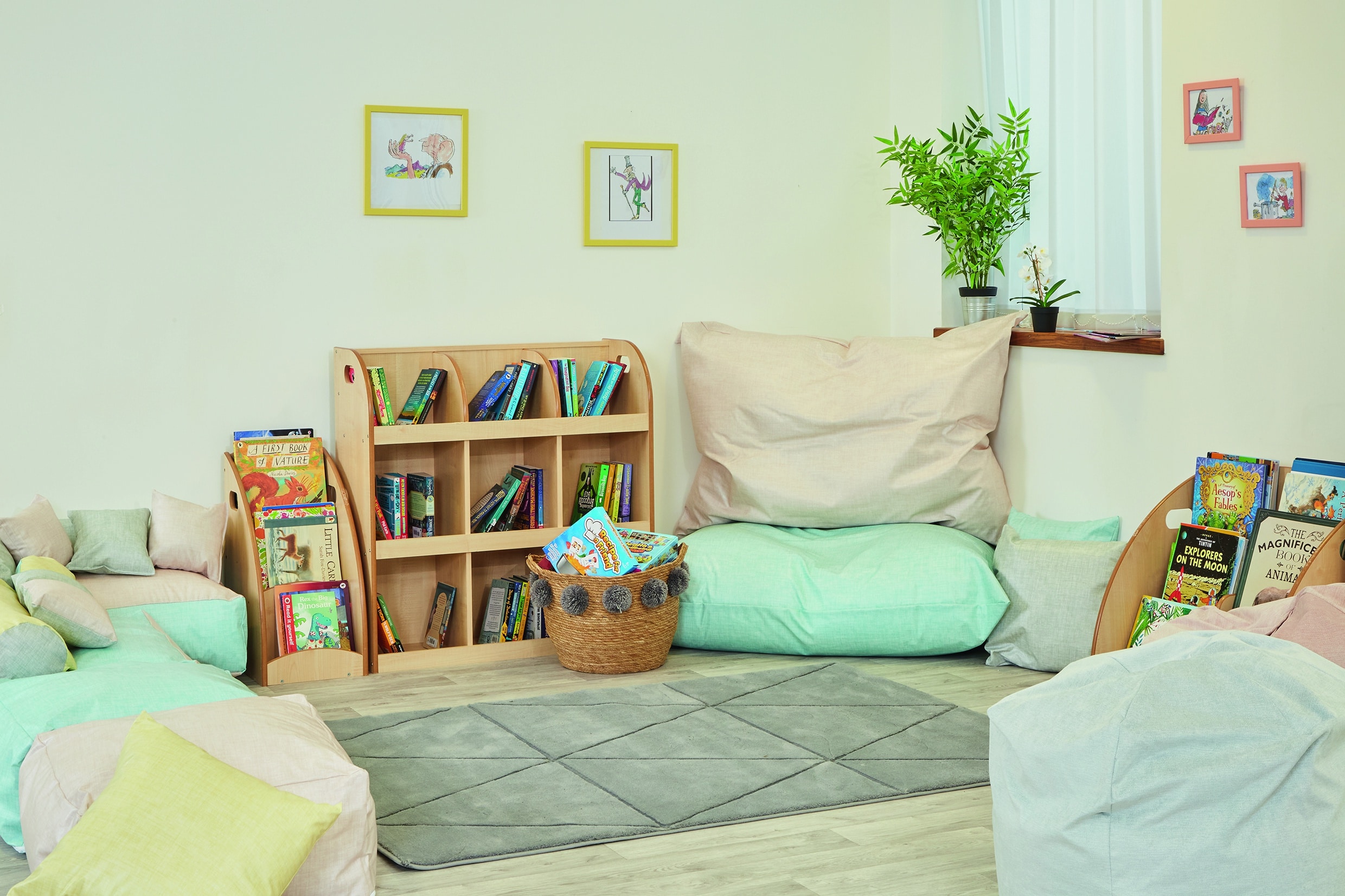 A reading corner may need the more calming colours that set a cosy environment for your students, such as green, blue or purple. Pastel shades, such as the colours in the image, are the best to use as they enhance warmth to the reading corner helping it to be cosy and relaxing for the students.
For this corner above, we wanted to evoke a sense of calm with some of our favourite classroom and nursery pieces in soft pastel shades. By using large wipe clean floor cushions, 3D effect rug and a book display unit, it's easier than ever to piece together a perfect reading corner.
Make use of space
Even the tiniest corner can be transformed into an appealing reading area! If you're short of space, you can use elements such as small tables and shelves in any nook possible. Make the most of your space by using some pieces for storage and seating. Instead of large chairs, why not incorporate comfy cushions which can mould to any space. Make sure the area is clutter-free so that you can use the space in the most efficient way possible for your students.