If you're looking for reading corner ideas, then look no further. These simple reading corner ideas have been sourced from across the web; no doubt they will have your pupils excited about the books in your classroom all year long.
We've put together some classroom reading corner ideas that are easy to implement and won't take up too much of your time.
Reading corner ideas and inspiration
1. Reading corner librarians
If you don't have pupil librarians, get them. There are so many great reasons to have pupil librarians. These include (but aren't limited to): providing pupils a sense of responsibility; helping out with reading corner displays; encouraging other pupils to visit the reading corner; tidying the books.
They can also help implement any of the following ideas. Let's face it, anything that can help pupils be independent as well as tick some of your to-do list off is a winner.
2. Voting station
Need a new selection for story time? Setup the options in reading corner, with an enticing explainer, and have your class vote for their preferred option.
Image: Pintrest
3. All about space
Themed reading corners are a great way to make a unique, decorative space that can aligned and updated depending on what topic you're covering in that term. Learning all about outer space? Transform reading corner into a space that is out of this world!
Image: The Gilded Pear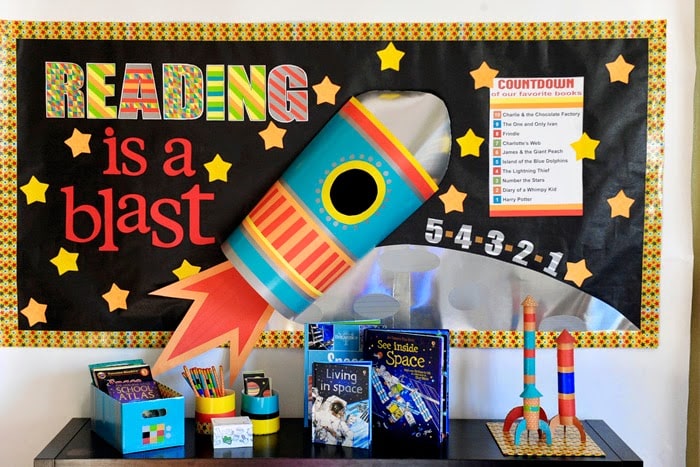 4. Book of the Week
Creating excitement around a particular book is easy if you highlight it as a good one to read! Just remember to change the book over each week. Perhaps nominate a child each week to decide on the Book of Week and they must read that book and provide a review for their peers at the end.
You might want to make the Book of the Week one you have read and can recommend. It might come from another class. If a weekly change over is too often, make it the book of the month, or even term.
5. Author of the month
Book of the week could even become author of the month. Open the eyes of your class to a new genre of books, or type of author by making reading corner all about them for a whole month. You could even tie it into world events, like focusing on a BAME author for Black History Month.
Image: Learning in Wonderland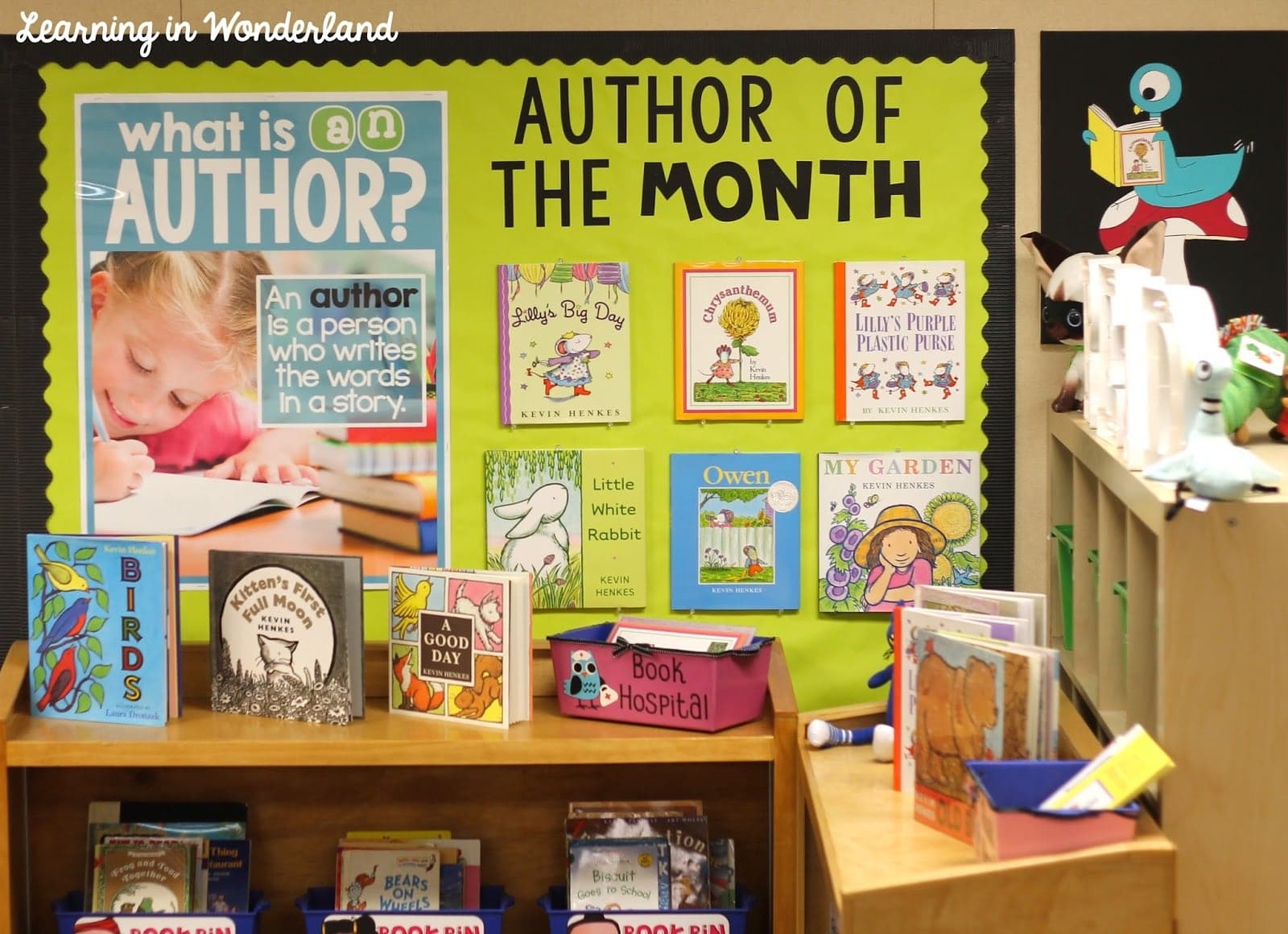 6. 'New' book arrival
Creating excitement around reading can become quite difficult, especially as children get older. However, nothing gets children more excited than a new book arrival. Now, it's great if you can actually order a book for your classroom and let the children open it.
However, this can become a costly business. So, consider borrowing one from another classroom, packaging it up, and getting another teacher to deliver it in front of the class. Boom! Pure excitement. You could always make it your Book of the Week too!
7. Go big on colour
What's an inspirational classroom reading corner without some colour, right? We found this example online and fell in love with the use of colour in every aspect of the space.
Image: Sweet Tooth Teaching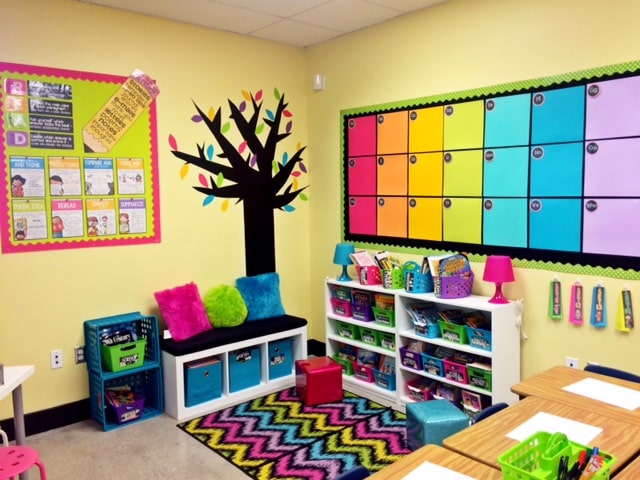 8. Book boat
Seats are sofas are practical, sure; but are they any fun? We found some inventive and frankly outrageous uses of bins, empty kids pools, baskets and even plastic tyres as alternative seating in reading corner.
With a little levity, you can easily turn your reading corner into a dock for some book boats.
Image: Pinterest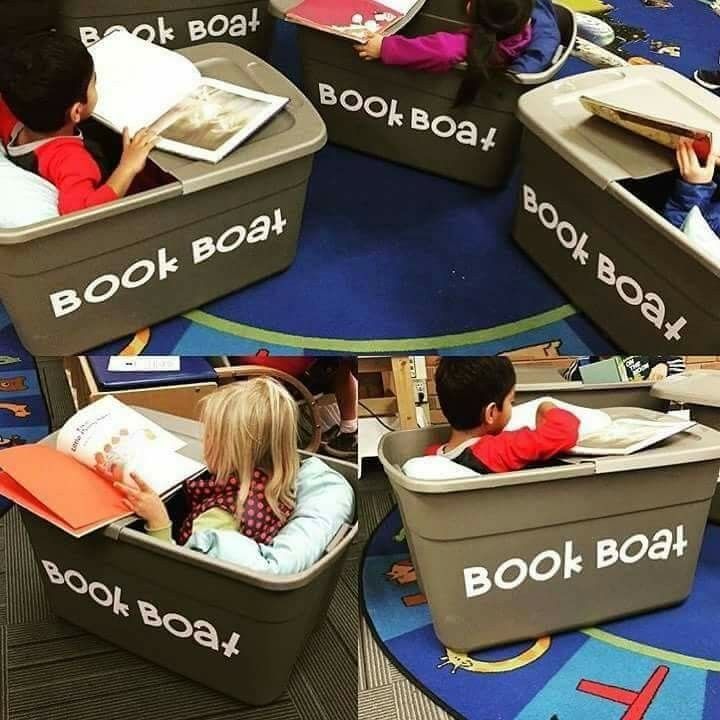 9. Book reviews
How do you find out about books you might want to read? Whether it's from a mate or Twitter, book reviews are incredibly influential and that doesn't change with children. Push children to write reviews of books.
If you have books on display on top of shelves, accompany the book with a card that has a short review from a peer on it. That way, they can not only ask the person about the book, but they can also share what they thought at the end of it. Is there anything more lovely than two children chatting about books they've read?!
10. Reading garden
Bringing the outdoors inside is a common them for reading corners in classrooms. In this cute example, a green archway and toadstool table are the setting for all things books.
Image: Innovative Teaching Ideas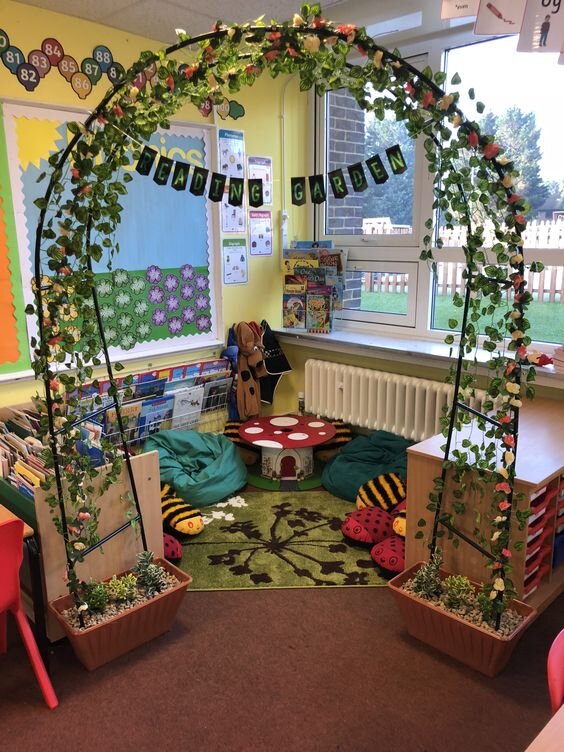 11. Camp out
Gardening really not your thing? How about an old-fashioned camp out instead? Complete with trees and shrubbery-laden tent, we loved this example found on Pinterest.
Image: Pinterest
12. Listening bears
Get some stuffed animals involved and give your class a reading buddy. Sit them in reading corner and encourage the class to read a story out loud to them. In the example below, the "listening bears" were labelled up with 'I like listening to stories' badges.
Image: Pinterest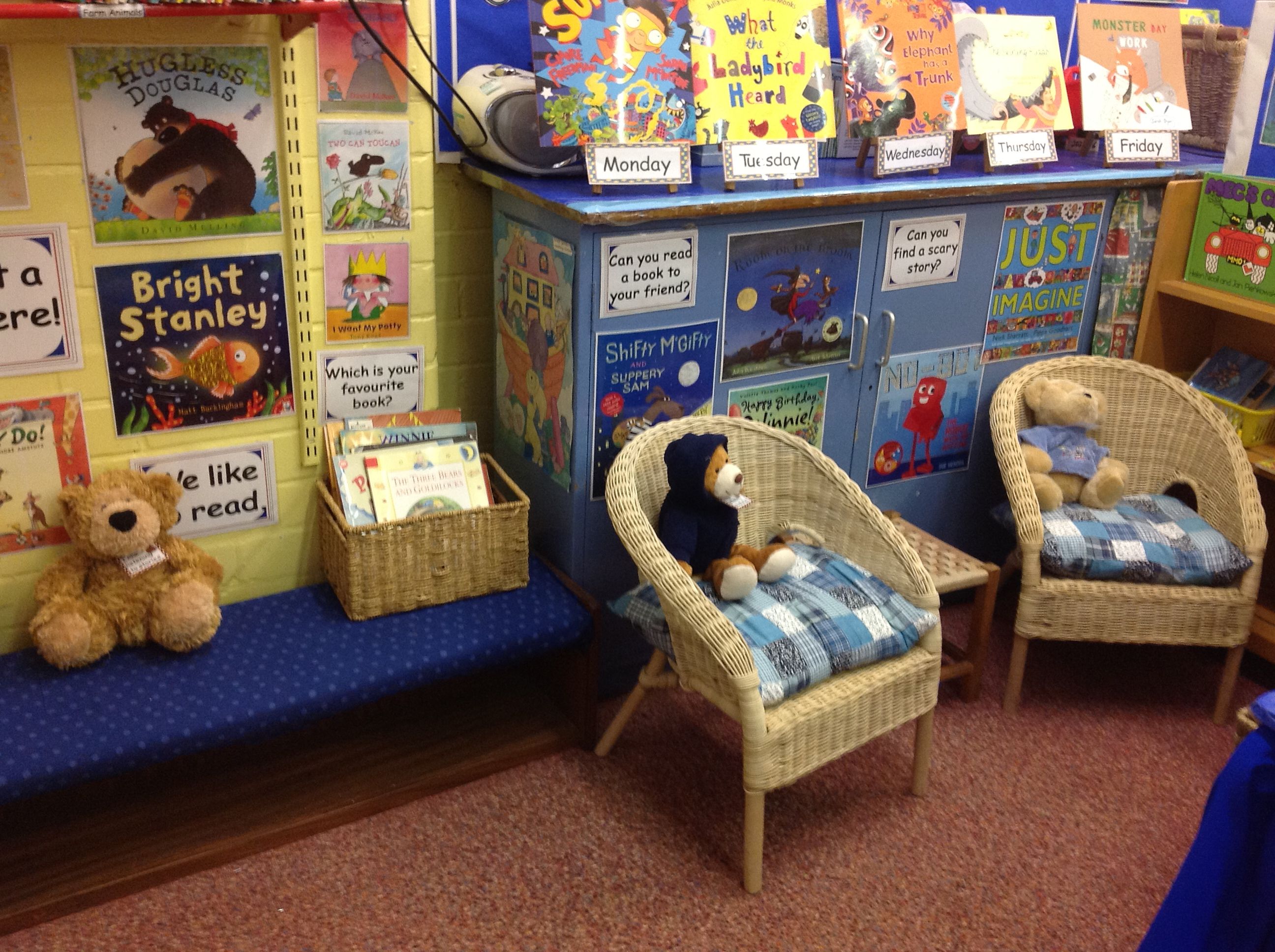 13. Mix up the reading material
A classroom reading corner doesn't have to be just books. After all, it is a reading corner. If you're lucky enough to have a magazine or newspaper subscription, make sure they're available for children to read.
If you don't have a subscription, ask the pupils, colleagues, or friends if they have subscriptions to any magazine, newspaper, or comic that you could potentially have older copies of to share with the children. Mixing up the reading material is good for vocabulary, imagination, and just general reading skills.
14. Listen to the llama
An example from across the pond, but one that's no less inspirational. The llamas bring a fun and novel angle to reading corner. Throw in a snug tipi and you've got an A* reading corner.
Image: Fun 365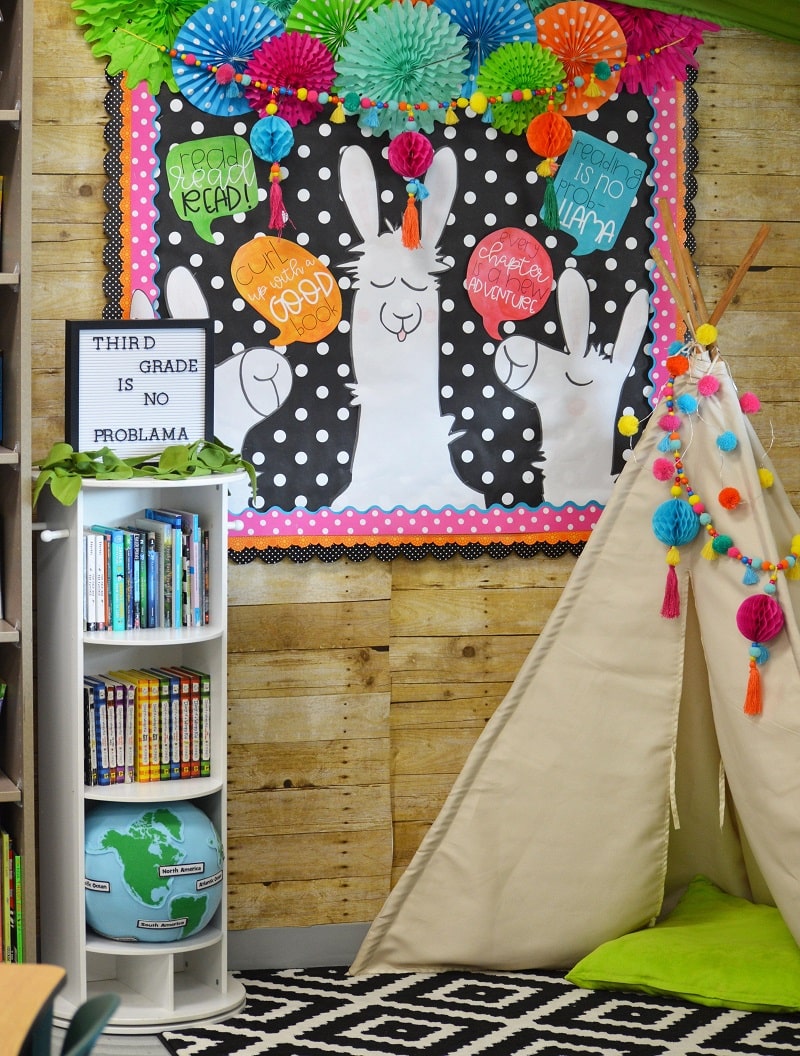 15. Headphones and music
Do you like music when you read? Or pure silence? Either way, it's good to provide music and headphones for pupils to listen to music as they read. It might help to block out classroom distractions and really focus on the book they're reading.
16. Make it a secret
Got some spare space under a bench? Why not convert it into a secret reading nook for those looking for some private reading time. This one found on Instagram uses fairy lights and curtains for a comfy, cushy corner.
Image: Instagram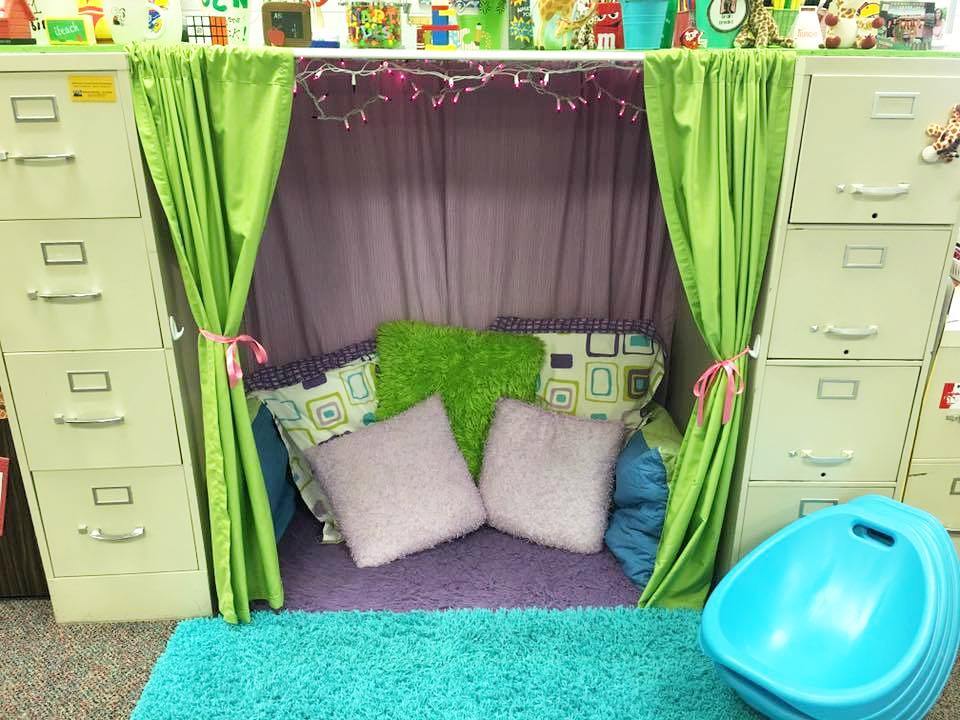 17. Keep it comfy and clean
Cushions, soft toys, bean bags: all these items help to keep your reading corner comfy. If you want to encourage children to read, it's a good idea to make the area comfortable and inviting by providing the ability to snuggle down with a good book.
If you're concerned about keeping your reading corner clean, it might be time for your school to invest in SteriTouch soft furnishings. You can get beanbags that are coated in antimicrobial treatment to help stop the spreading of germs.
18. Books we've read
Flying through books at breakneck speed, both in class and at home? Don't be afraid to show off how much you've read as a class with a "books we've read" wall display. Take this washing line design we found on Instagram for inspiration.
Image: Teaching Super Power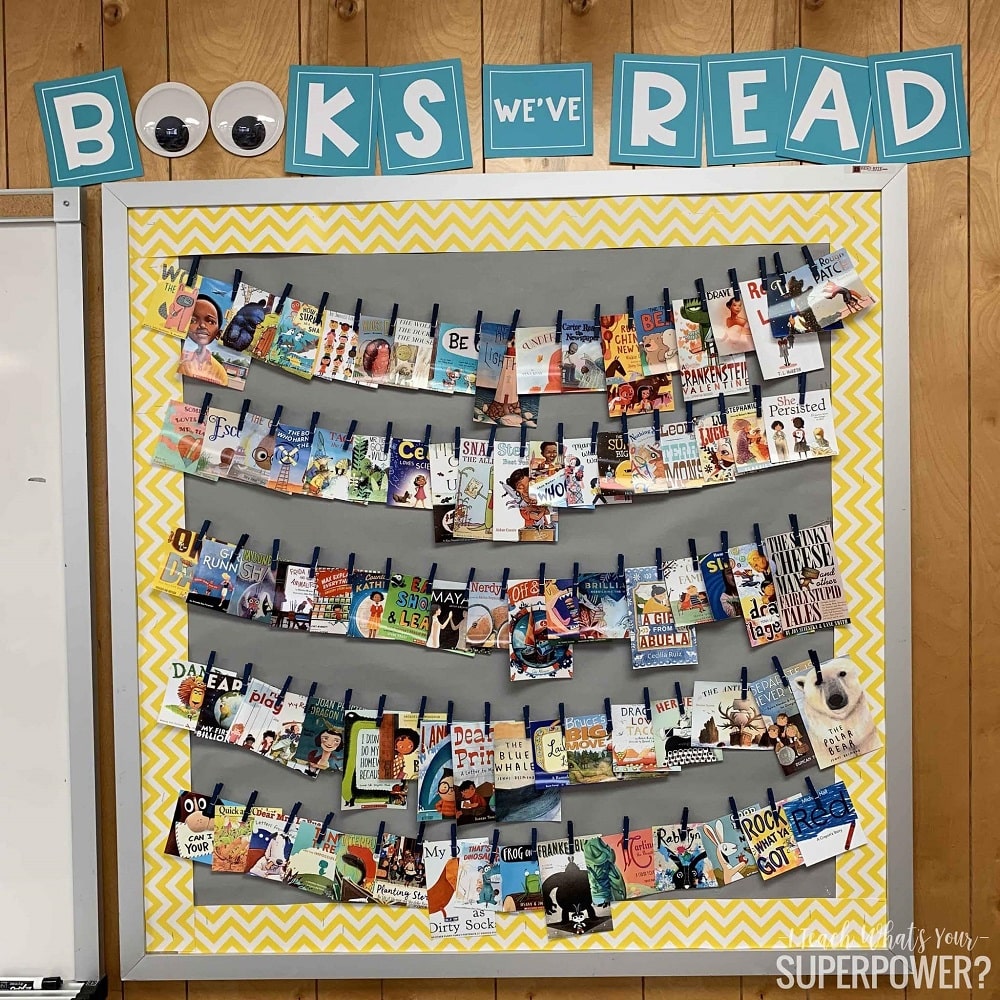 19. Fairy tale fort
Emphasise the magical worlds that are unlocked when you delve into a fairy tale book with this enchanting reading fort. Just make sure they take their shoes off before they enter!
Image: Mama papa bubba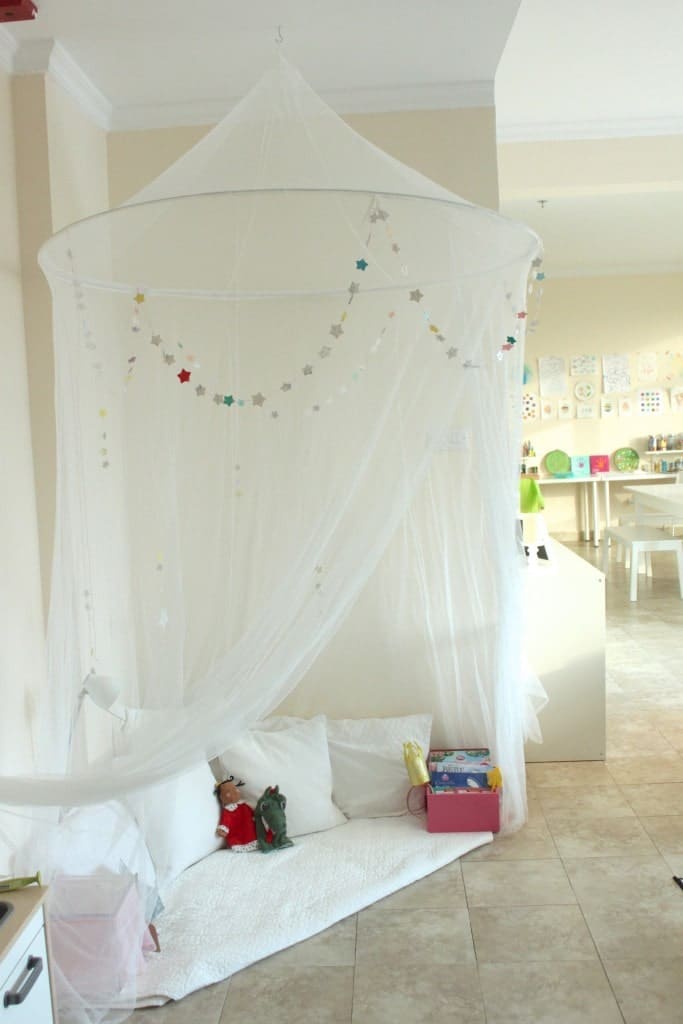 20. Make a splash
We mentioned it earlier, but here's another alternative seating arrangement for reading corner. Take an empty paddling pool and hey presto, you've got yourself the beginnings of a reading corner that's sure to make a splash.
Image: Frogs bees under the seas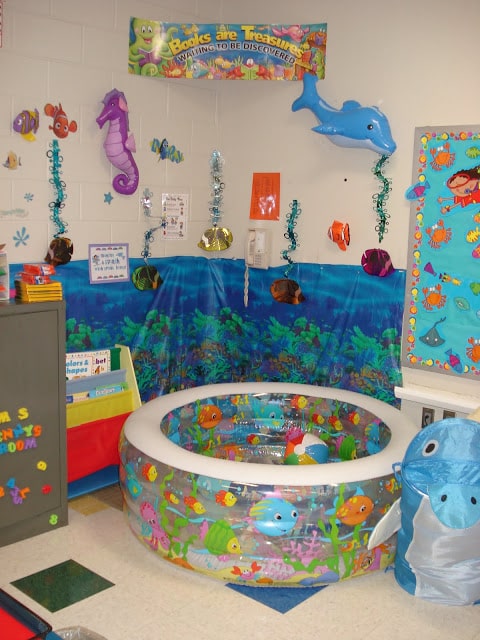 21. Go global
Reading is all about discovering new worlds, people, and cultures. We've seen no better display of this than in the reading corner below. Bring in globes and flags from around the world and match them with stories that introduce new countries to your class.
Image: Pinterest