School book club reading activities
With National Book Lovers Day coming up on the 9th of August, get children involved during the summer holidays by creating a school book club. Include plenty of book related activities to inspire children to read.
Whether in summer school or at home, allow children to read books by encouraging them to get involved using our reading activities.
Start the summer school book club
The first step is to start a book club during summer school to celebrate National Book Lovers Day and get children reading this summer.
Then choose a small number of children's books that kids can take home and read. At the end of each week, discuss the book together and ask questions such as: Who's your favourite character? Which part excited you the most? Or what would happen next? You can even read parts of the story together to help children manage reading the whole book in time for the discussion.
Have snacks and drinks whilst discussing the books together to engage children and encourage them to talk about books. For those at home you could opt to do a buddy read. This will be the same set out as a school book club but with only two people.
Take a trip to the library
A great way to inspire children to enjoy books is by taking a trip to the library. This could be to pick out a few books for the school book club together or have a tour of the library. You could include a reading where everyone can sit down together and listen to a story.
Libraries are vital and have allowed people to appreciate books for years. Showing support to local libraries is crucial in keep them going. Let children explore the plethora of books available to them and take some back with you to read.
Gift or swap books
Take some time to allow children to gift books to each other or swap their old ones for someone else's. This is a perfect way to celebrate National Book Lovers Day as it makes books seem exciting to children because they get a new book to read. Plus, it allows children to understand the feeling of gifting and receiving to others as well as learning how to share.
When encouraging a book swap, point out the benefits to the environment to children as they are reusing each other's books. Also, why not excite them by laying all the books out on a table and letting them choose which book they want to swap with. This will encourage them to read more books and delve into different genres and writing styles to broaden their English skills.
Play book themed games
A perfect reading activity for children is book themed games. This can be anything that you find or make up that relates to books. Make sure they are fun and engaging for children. Playing book themed games will encourage children to read this summer and have fun with literature.
A few games you could try out are:
All you have to do is create a few clues, like a treasure hunt, ensuring that they are based on books you are reading in the school book club. Hide the clues around the room or outdoors and let children hunt for the clues, leading them to hidden books to keep. This will help the more reluctant readers to memorise stories, particularly the children who struggle to concentrate and sit still whilst reading.
Get children working together with a fun game of find the item. Choose one book that you are reading and randomly pick out items within the story. This can be done whilst reading as a group where you shout out the item and tell the children to find it. They will then search around the classroom or outdoors to find the same item.
Make sure that you choose items that are in the premises or pre-prepare the items and hide them.
Play a book version of I spy. One by one let children spy something in a book. This can be anything from a certain letter to colours or items in the book. Let the rest of the children ask questions and guess correctly.
Create a different version of a story-
After reading a book, let children explore their creative writing skills using our pencil prompts. The sentence starters prompts will be the most fun to use as they can take the story in a different direction.
Children can randomly pick a sentence starter and finish the sentence off. Split the kids into small groups so they can all have a go at creating a sentence. Once done, they can read their fun version of the story out loud.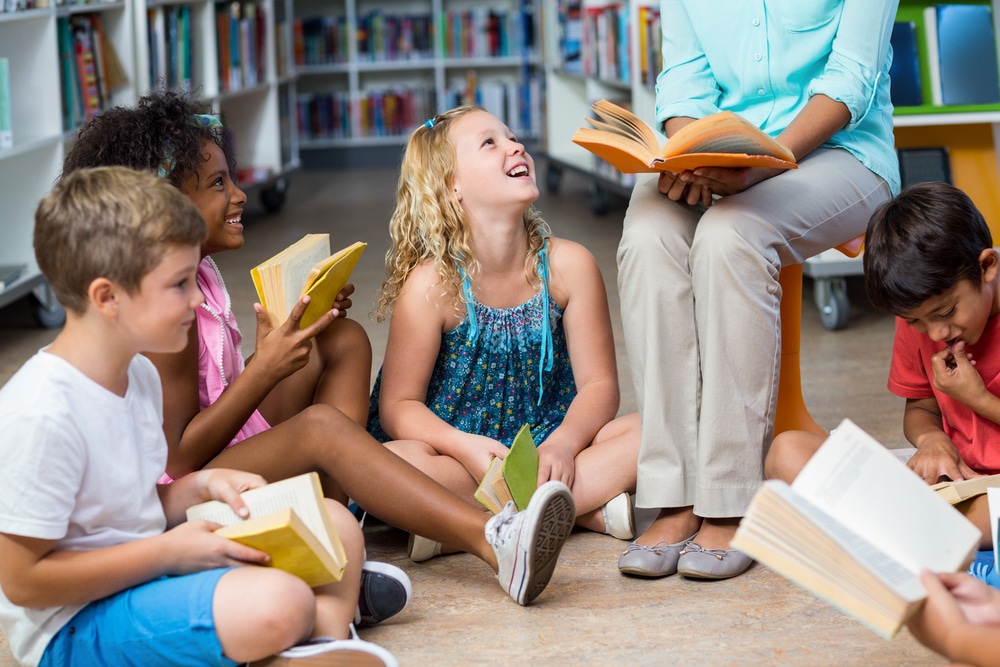 Have an influential person read to children
If possible, get someone to read to the children whether that's a popular children's author or TV personality. Having an influential person reading to children will encourage them to participate in reading. This is because they look up to the person and it's exciting to meet someone they know about.
Having stories read to children helps them to understand the storyline and helps them connect to it. An author or TV personality can make a story sound so much more exciting as they act out the book. It can also help develop children's listening skills and communication.
Have a book character party
A fun way to celebrate National Book Lovers Day is to throw a party encouraging children to dress up as a book character. This can be done in summer school or at home with friends and family. Prepare book themed snacks and games for everyone to enjoy.
Encourage children to get excited about books by letting them ask each other questions about their characters. This will intrigue children about everyone's favourite characters and can even make them want to read.
Offer accessories during the party for kids to play with and complete their character look with these fun hats and accessories.
Top children's books to celebrate national book lovers day
We have compiled a list of popular children's books that you can look at for inspiration and to use in the school book club.
The Cat in the Hat by Dr Seuss
The Hobbit by J.R.R Tolkien
Charlie and the Chocolate Factory by Roald Dahl
The Gruffalo by Julia Donaldson
Winnie the Pooh by A.A Milne
The Lion, the Witch, and the Wardrobe by C.S Lewis
Wonder by R.J Palacio
The Tale of Peter Rabbit by Beatrix Potter
For more books, take a look at this exciting collection.
Either in summer school or at home, a school book club is the best way to get reading. Try these reading activities as a part of the book club and enjoy the power of books. Create excitement and fun around books all summer to celebrate National Book Lovers Day.
Looking for more book inspiration? Read our blog for more ideas and how to integrate reading into different subjects ready for next year's lesson planning.