How to create your own classroom displays with the Display Lady
We've teamed up with Lois Jowett, a previous primary school teacher and the woman behind @DisplayLady on Instagram. With over 23,000 followers, Lois has been sharing her passion for teaching and love of creating displays.
Lois has created a series of short how-to videos which we'll be sharing on Instagram. These videos focus on how to create beautifully themed classroom displays to educate, inspire, and engage your students with specific topics across the curriculum. They will be shared on our Instagram account @Hopeeducation_primary so follow us if you haven't already to stay in the loop.
We're going to hand over to Lois to learn a bit more about her and her current role.
Display Lady
My name is Lois Jowett and until recently, I was a primary school teacher for over 10 years. I now work for the Positive Teacher company on social media and product development, and love supporting and creating ideas for teachers.
As a teacher, I taught across Key Stage 2 and was an assistant principle, assessment lead and a reading SLE. Reading is a real passion of mine and I loved inspiring the children through something called the "book tunnel" at my school. This was the main corridor at school which me and two other SLT members would decorate to focus on different genres, themes, or authors.
I started my Instagram page around mid 2018 and I knew I wanted to focus on school displays and inspirational content for teachers. I wanted to mix in the realism of life as a teacher and that's when I decided to start my weekly vlogs on YouTube. Instagram was, and still is, the main place where I'm active, I love the teaching community on that platform.
What display boards have you enjoyed making the most?
There's so many I really loved. In the early days of my teaching career, I worked at a school where we themed the whole classroom for a term and those were so much fun to do. But I don't have the best pictures of those classrooms unfortunately, but this image is of the reading corner. I made a giant keyhole out of a bike box and then glued photocopied pages from books all over it.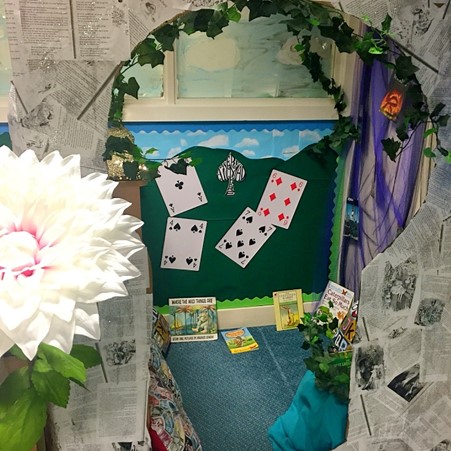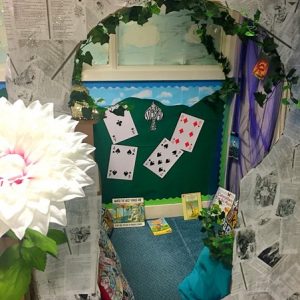 I love making anything with leaves and vines, so the rainforest themed one from the book tunnel stands out in my mind.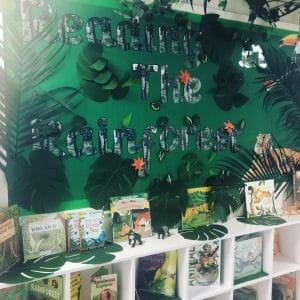 Under the Sea from the book tunnel was so much fun to make with a stuffed mermaid tail and pool noodles to give an extra wow factor on this one. I love creating things that go the extra mile and make the children feel immersed in the display or theme.

Which display boards have been most popular with your class?
My class loved our chocolate factory theme. It was complete with a 'chocolate' waterfall, 'lickable' walls (sweets added to them), a giant Wonka Bar and a huge lollypop tree which was made from a flower oasis!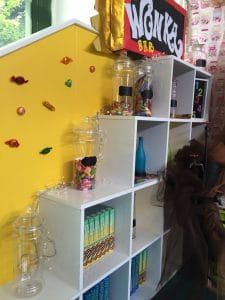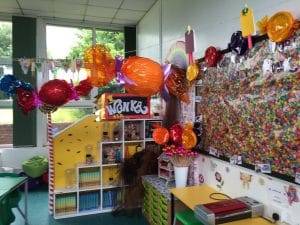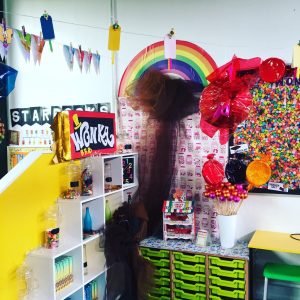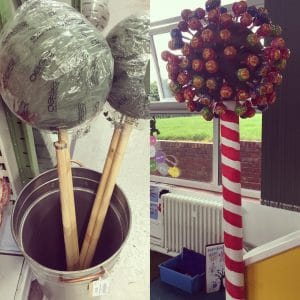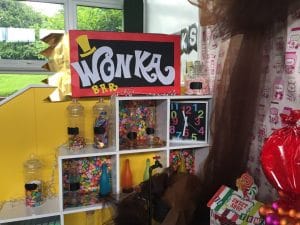 Sometimes simple can be effective. Here I used my fan border to create the wow factor on a display showcasing the children's writing.
I love to go the extra mile, especially if a display is going to be up for a longer time period. This was a flower mural I created for the front of my classroom with an inspirational quote. I added lights around the flowers to make a real feature in the room. It was a fair amount of work, but it lasted all year (and it even could have lasted longer if I didn't move classrooms so much).
What can we expect from your upcoming video series?
The video series is aimed to help teachers create the best display they can in the most time efficient way.
It's great for new teachers as it covers lots of basics. It's also great for experienced teachers. I was still meeting teachers who had been doing display boards for over ten years who didn't know about the corrugated border hack!
Sometimes it's assumed people know things about displays when they don't. There's no university module on it so we learn through trial and improvement. I'm hoping to take the trial out of it and go right to improvement for as many teachers as possible as their time is so precious.
For more from Lois check our her social channel @DisplayLady and follow us on Instagram @Hopeeducation_primary for more inspirational content and to keep up to date with Lois' how-to video series.