Halloween crafts to improve child development
There are many reasons for pupils to do art and crafts that will improve child development. With only a few simple materials, you can easily make Halloween crafts and activities with your children or pupils whilst improving their skills at the same time.
---

Creating artwork
Art allows children to express themselves creatively, which is beneficial throughout their young lives. Art allows for self-expression when doing anything creative, and this helps youngsters to express and cope with their feelings.
Colouring

Colouring is a simple task that has many benefits. Colouring requires good concentration and this type of focusing on one task can help a child develop their overall concentration levels. When children first begin colouring, it will be difficult for them to stay within the lines, but as they practice, their talent will improve. It also encourages colour awareness. It is best to use high-quality, premium colouring pencils such as these from Swash. They are break-resistant, easy to blend with extra-thick leads for all ages.
Try this task for Halloween: Create your own pumpkins!
Our versatile kit features pieces that easily slide together to create your very own pumpkins. The two pieces slide together without glue or tools which make it perfect to put together and easy to decorate.
The natural unfinished poplar plywood can be decorated with paint or colouring pencils. Versatile pencils such as Swash are a perfect choice.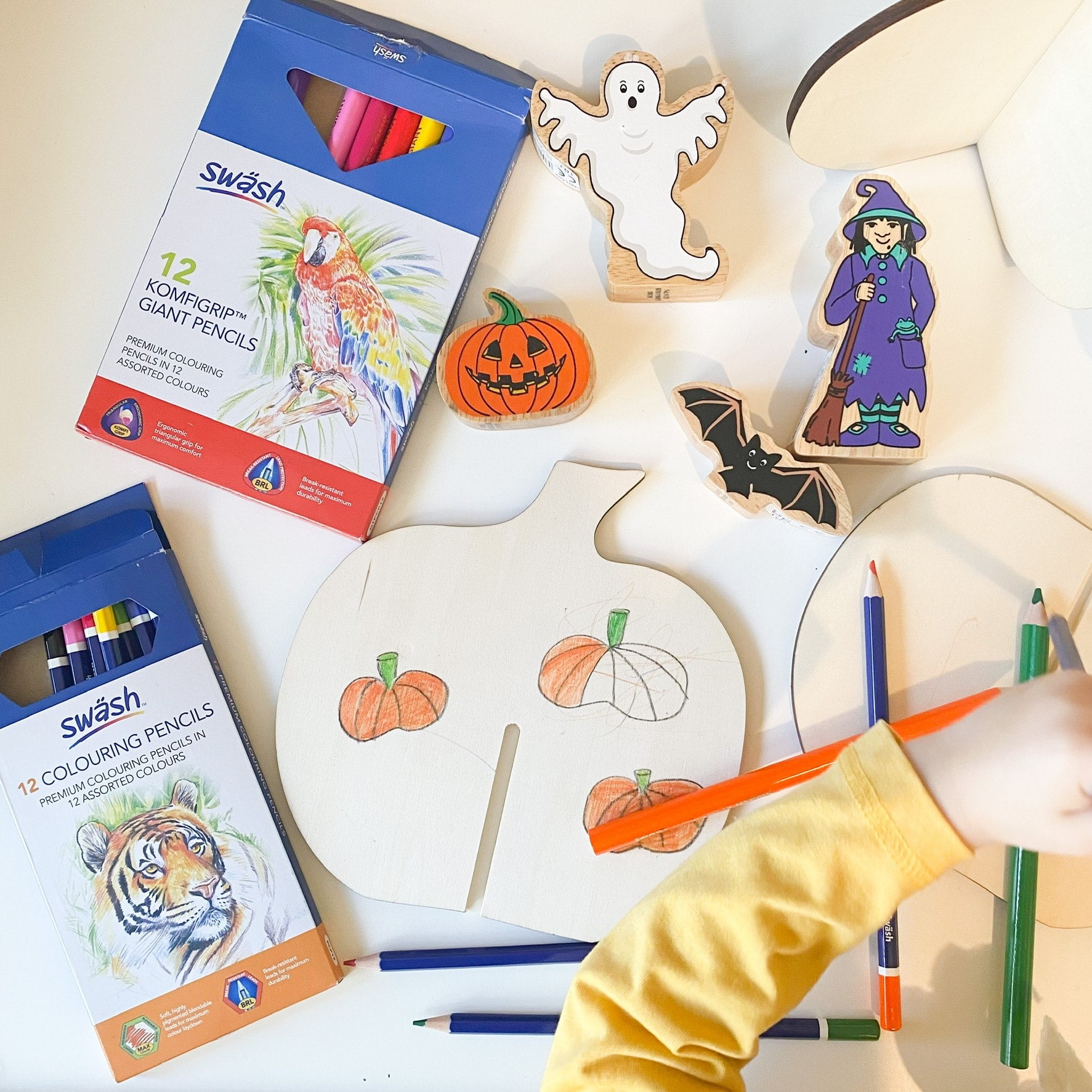 Literacy
Crafting with your children or pupils helps to improve their skills, from speaking and reading to listening and understanding. When kids make art or crafts, they get to talk about their work. You could use pencils to create themed activities such as this Halloween themed reading words and captions.
Maths with crafting
Hands on resources are fast becoming an essential part of the how we teach maths.  Kids get to learn about and recognise different shapes, count, and sort out their art supplies and even measure out lengths and sizes of art materials. They are doing maths almost without realising! You can create your own pumpkins using cardboard, paint and pencils to make a fun maths challenge in the classroom.
Learning the alphabet
One of the most important aspects of learning the English language is learning the alphabet. Students' spelling and vocabulary will improve as they gain a better understanding of the alphabet. This ABC Halloween crafts is a perfect and fun way to help children along with learning the alphabet in a creative way.
Whether children are painting, gluing, colouring or cutting, they are developing their fine motor skills and improving their coordination. Give children a sense of pride and achievement by creating Halloween crafts!