6 easy classroom display ideas
If you love to put up a fresh display for a new year or term, then we've gathered some of the best classroom display ideas the internet has to offer. Whether it's your staple 'All about me' display or mixing it up with something dramatic and creative for the reading corner, we've done the inspirational legwork to provide you with a one-stop-shop of inspirational classroom display ideas.
1. Refresh your reading corner
There are SO many amazing reading corner displays that make reading irresistible for your class. Have a go at picking a theme; it might fit with your topic, but never be afraid to go off-piste! Think, underwater, jungle, space, or fairy tale. Maybe choose a book your class loves and dress up your reading corner accordingly – you can make the Hogwarts Express out of bookshelves, right? If you're looking for more inspiration, look up 'classroom reading displays' on Pinterest and you won't be disappointed!
2. Hold your own art show
Universities show off the art of their students with grand art shows every year; so why not follow in their footsteps? Art is something to be seen and admired so get that art displayed! Leave as much space between each piece as your wall or surface space will allow and use natural colours as backing. Hessian fabric is cheap and looks fab as backing for art on the walls or on a surface.
3. Classroom jobs
Every good classroom teacher knows that pupil help in the classroom can be an absolute lifesaver and it's a fantastic way of giving the children responsibility for their learning space. Win, win. However, if you don't have something planned out in the beginning, the logistics of jobs for pupils can be a nightmare, particularly if you want them on a rota. Sort yourself out a classroom jobs board and print out your pupils' names on cards with Blu Tack on the back so they can be easily moved around.
4. Goals of the year
A new school year is that 'Brucie bonus' moment where you can have another fresh start and the same goes for your class. Have a discussion with your class about what they would like to achieve in the coming year. Have them commit to these goals and display them on a board. Check in with the board and allow pupils to make changes where their interests and motivations have changed. And don't forget to add your own to show your class you're all in this together. Check out this great example of a Goal Setting display by Reflections of an Intentional Teacher.
5. All about me
It's possible your class is full of pupils who don't know each other. Change that. Create an all about me display that children can use to share things about themselves that no one knows about them. If you have a class that has a lot of EAL pupils, it might be nice to include what language each child speaks to help encourage connections for children new to the country.
6. Key vocabulary
Displays can be quite onerous if they require constant updating. A vocabulary display can fall into this trap but avoid too much change by putting up vocabulary for key topics you will cover in the term. These could be English, maths or topic-based and should include basic and complex words. Ensure the meaning is also present, as well as an example of it being used. Challenge your pupils to use each word at least once in the term.
If you have some examples of simple classroom display ideas to share, we'd love to see them! Share your display ideas by tagging us into your post on Instagram with @hopeeducation_primary.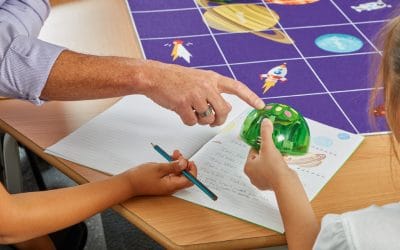 Teach your KS1 kids to code as part of your maths lessons using our 3 easy techniques and activities. Cross-curricular teaching's never been so simple!
read more