3 unusual activities for Numicon®
There are so many activities for Numicon® in maths teaching, particularly for the maths mastery approach. It helps to provide pupils a multi-sensory experience of learning and explores the connections between numbers in a fun and engaging way.
We trawled the internet for some of the more unusual Numicon activities to teach maths. Here is our list of 3 unusual (and effective!) ways to use Numicon.
Develop fine motor skills by threading Numicon
We found this fantastic idea on Instagram, suggested by @thepositiveteacher. Quite simply, she has got children to recognise the number that is represented by the Numicon plates. Then pupils have threaded pipe cleaners through the holes on the Numicon to help develop fine motor skills. A fantastic combination of skill development!
Use Numicon as biscuit cutters
Using Numicon to make Numicon biscuits is a really fun and engaging way to combine a cooking lesson with maths. This is an idea we found on the Here Come the Girls blog and we think it's fab! The full ingredients list for the biscuits is on their blog 'Numicon Biscuits'. Once the biscuit dough has been made, use the (previously cleaned) Numicon to cut around and imprint where the holes should go. This is such a fun and imaginative use of Numicon!
Create Rangoli patterns with Numicon
Rangoli patterns are colourful designs created on the floor near entrances to houses to welcome guests during Diwali. Hindus draw Rangoli patterns to encourage the goddess Lakshmi to enter their home and they are traditionally drawn with fingers using flour, rice grains, or coloured chalk. Or Numicon. This great idea came from @Cloverlea1917 on Twitter. They used Numicon and baseboards to create beautiful patterns to celebrate Diwali. Not only is this a unique and quick activity to celebrate other cultures and religions, it's a fantastic way to explore number and patterns.
For everything you need to teach with Numicon, you can see our entire range here.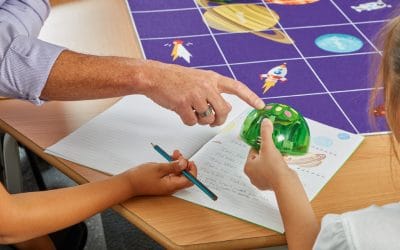 Teach your KS1 kids to code as part of your maths lessons using our 3 easy techniques and activities. Cross-curricular teaching's never been so simple!
read more