Teachers Guide to Desk Organisation
To declutter your mind and classroom, you need to work on a desk that you're happy with. Whether you have pens, pencils, stationary accessories, diaries, planners, or folders for your desk, there's nothing better than having it all organised. Let's go through some handy tips to get your desk organised!
Why is an organised desk important for yourself and the classroom?
Having an organised desk helps you to be prepared for each day and motivates you as your work-space is clear. Cluttered desks waste a lot of time to find essential items, brings chaos and frustration when trying to find them and with paperwork, it can make you do double the work. You might even be printing another material that you already have done before as you've lost it.
Organising your desk sets a great example for your students because it presents an organised professional image. This sets the standards for the classroom as children will respect their surroundings and keep the classroom tidy. If your desk is cluttered this sends the wrong message out to the kids, therefore, they will have no respect for the rest of the classroom.
What's important to keep and what needs to go?
Get rid of anything you don't need. The school holidays are the perfect time for a clear-out. Maybe you have old paperwork you don't need anymore. Old pens that are no longer working. Nothing worse than wanting to quickly write something down when you realise you can't find a working pen! Stock up on a new pack of pens such as these BIC classic ball pens here.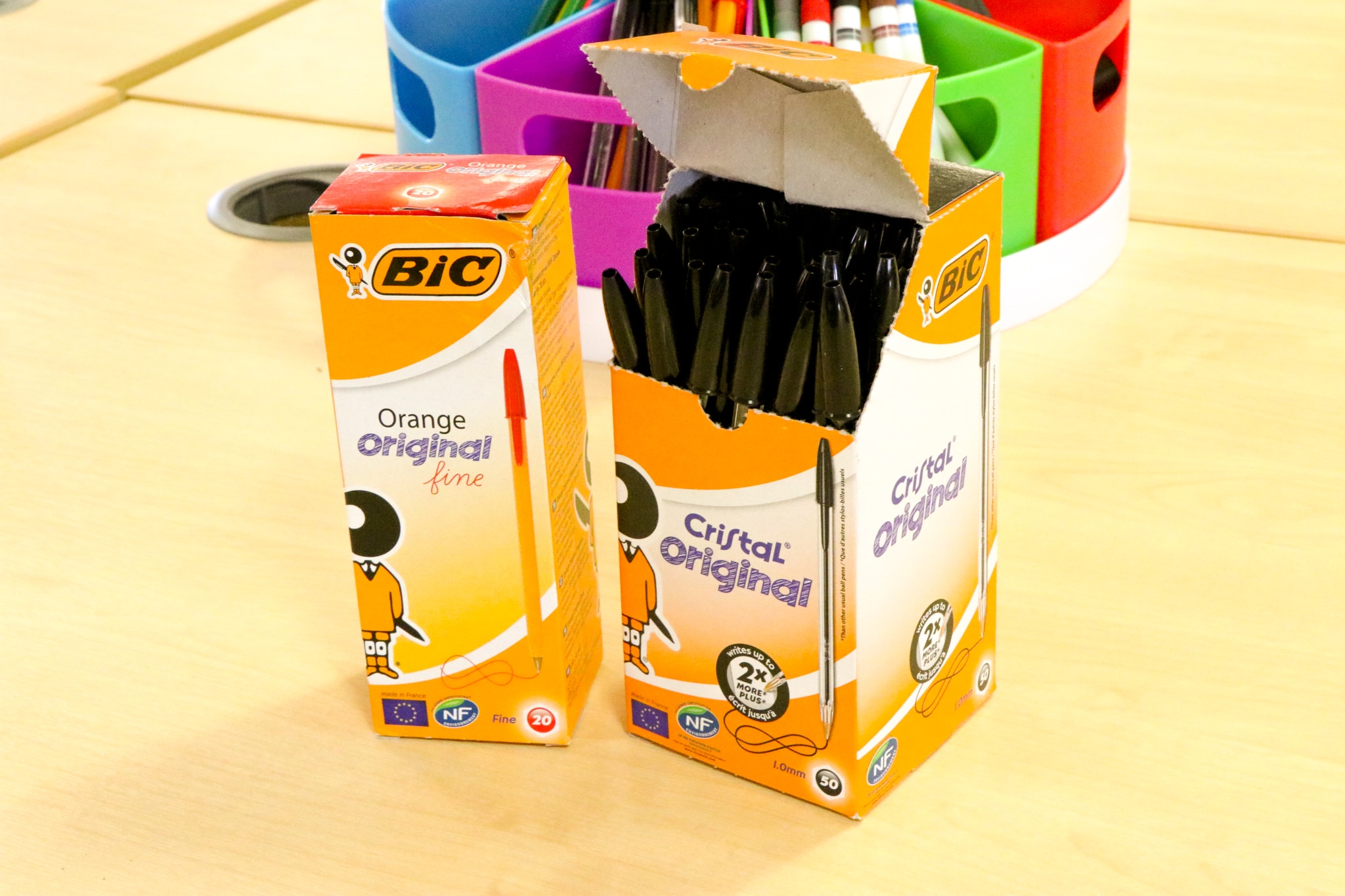 Best ways to organise your desk: 
1. Sort by colour
A useful way to be organised is sorting by colour. This allows your desk to look amazing with bright colours grouped together that is eye-catching, so you remember your system! Coloured pens are important items that can be colour-coordinated, this will allow you to know where a certain colour pen is so you can easily locate them when needed. These BIC pens are especially useful for your marking!
2. Use the space around and under your desk
Once your desk has been de-cluttered, you may find that there are still lots of items on top of your desk or in the drawers. This can seriously mess up your organisation with items becoming lost and misplaced. To avoid having too many items on or inside your desk it's best to use the space around your desk. The most efficient space to use is underneath your desk as this can be quite spacious. Using an organisational item, such as plastic tower drawers, under your desk allows you to free up space on the surface and in the drawers. However, if your desk doesn't have much room underneath don't worry as you can use items like paper trays, caddies or pots to store items on the surface of your desk neatly. Or you could get more creative and use the wall space near your desk to pin work up and other paperwork.

3. Use labels
Using labels can be one of the easiest ways to create a home for things in the classroom. You can label anything from pots, drawers and notepads on your desks to keep everything organised.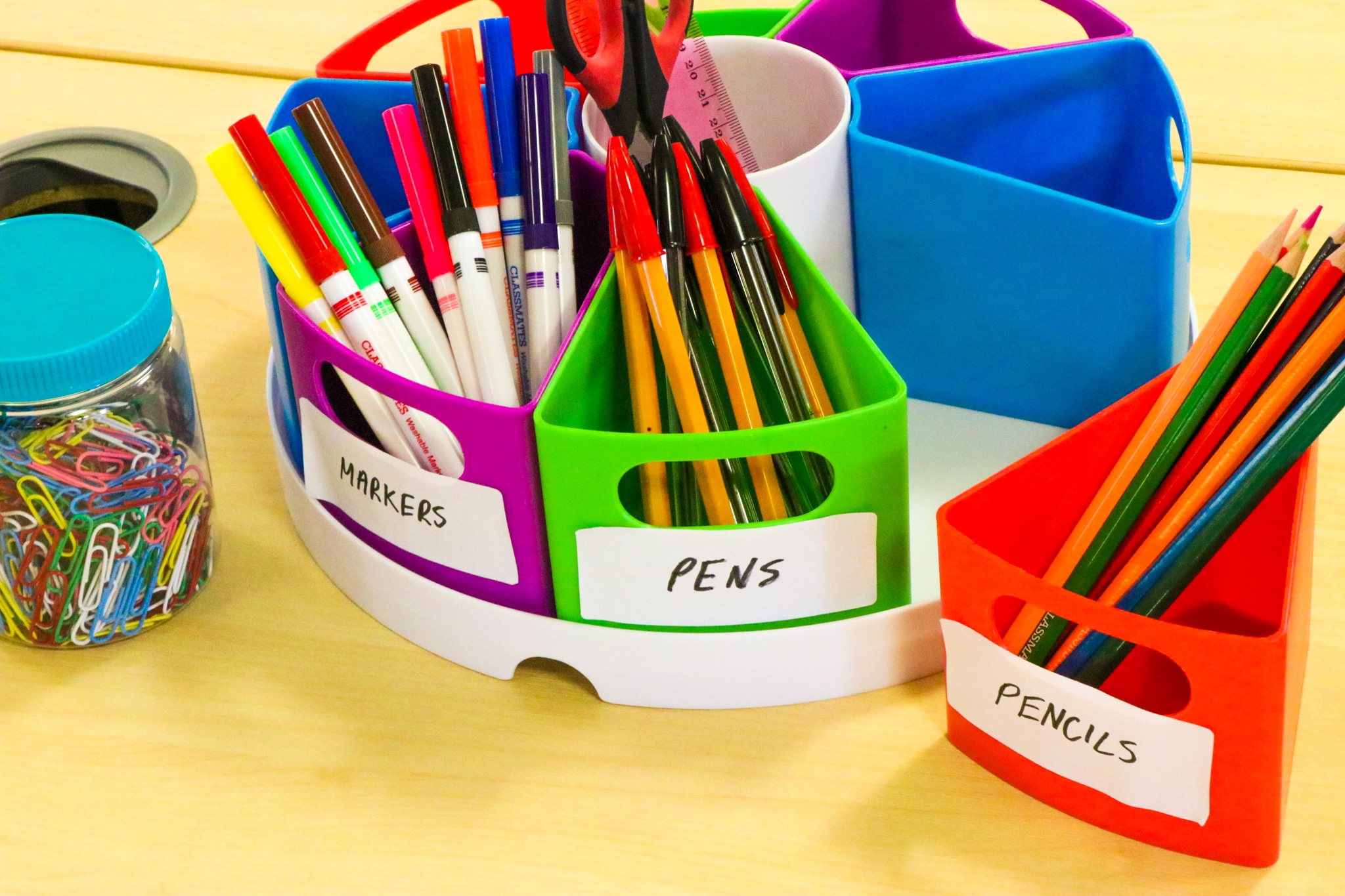 4. Have a routine to keep the desk organised
It's one challenge to organise and clear out your desk, but it's even harder to maintain it. Set up a routine to put away items and clean your desk. The easiest way to do this is to tidy your desk when you get your students to pack their items away: break time, lunchtime and at the end of the day. Once students have left for the day, clean your desk down with antibacterial wipes to have a clean, fresh and tidy desk waiting for you in the morning. You will feel amazing in the morning as you can get right to work before students arrive, making you relaxed and productive.  
5. Use of paper trays and drawer organisation
Drawers are the worst part of any desk as it is convenient and easy to stuff anything and everything into them. This leads to valuable items you need day to day becoming buried under all sorts, making them hard to find. The best way to sort this is to use a drawer organiser tray! These have various compartments to separate items so you can easily find them. They perfectly slide into the drawers and keep them neat forever. Sometimes a drawer organiser might not work, or you may not have access to one, this is where paper trays come in! Paper trays are a must-have for teachers desks to store important paperwork neatly. However, paper trays are very versatile and can be used for other items to store on top of your desk or in the drawers (just like a drawer organiser.) They are quite roomy and are a useful storage tool to put essentials away, that clutter your desk, neatly.
6. Use a centre organiser
This organiser is a key tool to store pens, pencils, markers, anything that clutters up your desk. It is very useful to store those bits and bobs that tend to pile up in the drawers or on the surface. Each colourful compartment has space for labels to clearly show what item goes in each compartment. Easily moveable to use as pen pots or to store elsewhere if not immediately needed. You will no longer have to sift through paperclips, rubber bands, drawing pins and all the small pieces to find items again.