Social distancing and infection control in your nursery
Staying safe and controlling infection is every nursery's top priority right now. We've been working hard to ensure you have the facilities to meet the DfE requirements and standards.
With many Nurseries staying open throughout the Covid-19 outbreak in the UK, and the rest slowly beginning to reopen, we've been working hard to make sure we've got all the appropriate resources and facilities to help you maintain a safe and clean environment for parents and children and control infection through social distancing.
Social distancing and 'bubbles'
Social distancing has become a part of our everyday language now, and whilst it's slowly being relaxed in many places, it's something we will have in our minds throughout our day-to-day lives, probably for the foreseeable future. The Department for Education (DfE) introduced 'bubbles' for early years' settings, as a way to ensure that the same children and staff stay together to limit the spread of the virus. This has been an essential part of their reopening guidance for settings in England. Like when children were at home with parents during the lockdown, they were in a 'bubble' with family members. The aim is to create the same type of thing at nursery. Whilst splitting children and staff into bubbles also limits the spread through less contact with more people, it also reassures parents and staff that they, and the children, are safe to return to work/nursery.
Whilst these 'bubbles' are due to be relaxed at the end of July 2020, government guidance is changing rapidly, and our guess is that some form of social distancing will have to take place for a while as we try to return to our new idea of 'normal'.
Resources to help you
We understand that parents and children often look to the nursery practitioners and managers for guidance, however this situation is one that nobody has experienced before, and we're all still learning. That is why we've been working hard to source some easy-to-use social distancing products, not only to help the children to understand, but also give parents the confidence that their little ones' safety is being prioritised.
Here are some of our must-have resources that we have picked out for you:
This Safe Distance 2 Metre Mat shows the social distancing safe distance of 2 metres according to Government Guidelines. As this mat is non-adhesive, it can be re-used and repositioned over and over again, reducing plastic waste and the impact on the environment. Made from rubber backed playmat material. Size: 200 x 50cm (78" x 20").
Perfect for 'bubbles' and beyond. Pack of 10 Personalised Wristbands in 3 different colours (sold separately) which can be personalised on one side of the band. Personalisation is using a debossed technique, where the lettering is engraved in the silicone wristband, giving an inset '3D' effect. The wristbands are customised to your requirements with any name or phrase of your choice. They are great for adding your nursery/school name, an emergency contact number for trips, sports teams, allergy information, or teacher names for social distancing purposes.
Perfect for creating barriers and separations throughout your setting. It is bright and colourful and a great addition to a playhouse, or even for creating a ball pit. Eight individual pieces can be connected together in various ways, and it's made from PE which means it's easy to wipe-down and clean.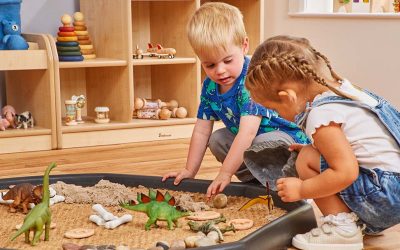 The importance of play in early childhood is evident when you consider how to bridge the gap between EYFS and Primary school. The 'gap' is reference to early years learners that have struggled to grasp key skills that will take them through to primary education. This...
read more