Ways to use Rainbow Torches inside and outside the classroom
What are Rainbow Torches?
Hope Education Rainbow Torches take portable lighting to the next level. Children can set the torches to white light, or red, blue, or green light. It's also possible to set the torches to colour changing mode; see the light from the torch change through all the colours of the rainbow – hence the name!
They have a super-long battery life that can last up to 10 hours, ensuring learning and fun isn't interrupted during use. They are then easily charged up to full after 4 hours on the Charging Hub, which is also included. Say goodbye to the annoyance and cost of replacing batteries, and say hi to fun with light!
Ways to use Rainbow Torches
Hope Education Rainbow Torches have lots of uses; they are specifically designed to help reach curriculum goals in EYFS, but could absolutely be utilised in higher year groups and phases. They also provide the opportunity to teach using a multi-sensory approach, helping to give pupils deeper learning experiences at nursery or school.
Work on physical development
The Statutory framework for the early years foundation stage requires practitioners to provide opportunities for children to be active and interactive. The Rainbow Torches allow pupils to interact with objects around them. The use of the Rainbow Torches helps to develop control and fine motor skills when turning them on and off and switching between coloured lights.
Hope Rainbow Torches lend themselves perfectly to den creation and exploration which aid the development of problem-solving and creative thinking. Use the Rainbow Torches to light up the dens in different coloured lights or give the torches to the children as they wander through dens and explore the outside world.
Explore understanding of the world
The Rainbow Torches can be used to understand light and the relationship between colours. Create your own mini-science experiment by shining different coloured lights into one another and see what is created. Or, experiment with shadows, seeing how they are made and what is needed to create them.
Develop expressive arts and design skills
The Rainbow Torches provide a different medium for pupils to play and create with. It can help their understanding of colour before committing to paper.
Other ways to use Rainbow Torches?
Use as part of any role-playing activities or school productions as part of your bank of lighting resources.
Re-tell your class storybook, re-creating the story by making your own shadow puppet show, or to create a specific atmosphere.
Shine the torches to enhance the atmosphere as part of an interactive creative writing class, or to inspire creative thinking in art classes for older pupils.
Brighten up your lessons today with Rainbow Torches from Hope Education.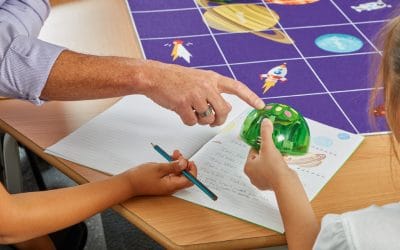 Teach your KS1 kids to code as part of your maths lessons using our 3 easy techniques and activities. Cross-curricular teaching's never been so simple!
read more