Messy maths mud kitchen play ideas
Children love messy play and with the right invitation and well thought out activity, children will have the opportunity to learn, discover and take part in fun activities, in an environment designed with the EYFS in mind.
Mud kitchens can spark natural curiosity in children and allow them to role play and use the skills that they have encountered in real life to make sense of their world. Links with understanding the world, mathematics, and expressive art and design are especially focused upon, however. A mud kitchen can provide opportunity for all areas of the Early Years Foundation Stage (EYFS) to be reflected if an activity is implemented effectively.
Messy play is especially effective in a mud kitchen…. and this does not necessarily need to be mud!
Messy Maths Kitchen
Maths can be included very easily in a mud kitchen, here we used number trays and natural loose parts to give children opportunities to recognise numbers and quantities. Using real life objects in a mud kitchen can also spark curiosity.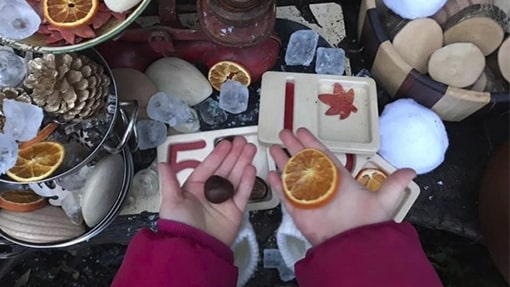 Maths in Action
Scales and weights to measure mass
Number trays for quantity
Pots and pans to discuss volume
Ice to discuss density
Blocks to include shape and measures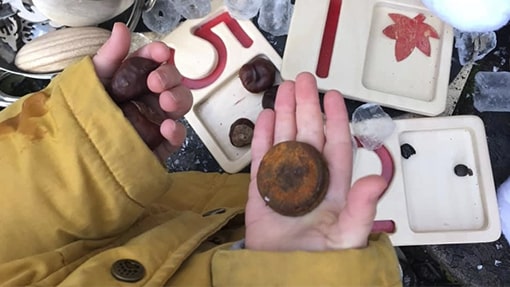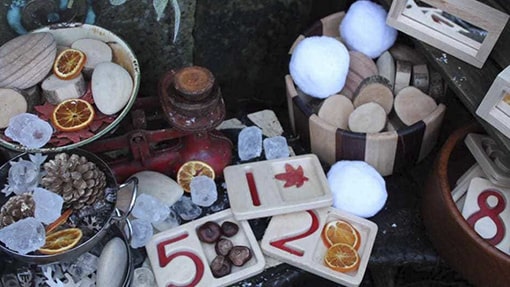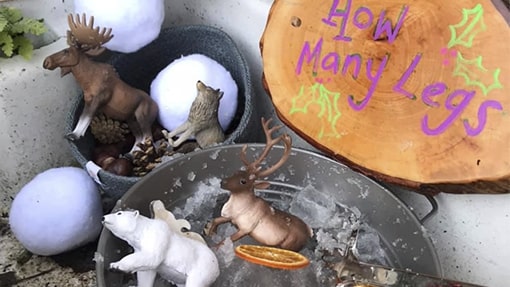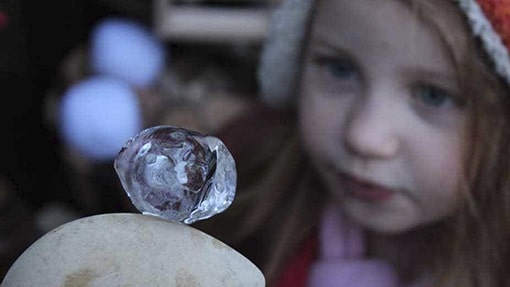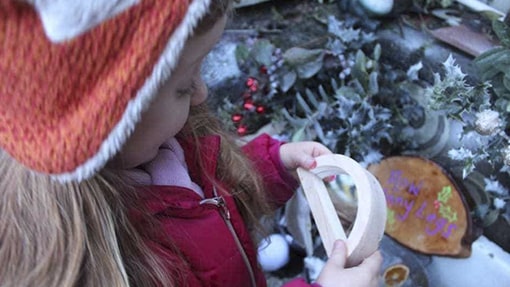 Mud kitchen play can spark an interest in natural loose parts and can be the first step to introducing new textures to children and broadening vocabulary. Describing the textures, combining loose parts into mud pies and soups and using instant snow and real ice can lead imagination into lots of different areas. We focused on creating reindeer food as we discussed cold climate animals, but you could make snowman stew or conker chowder… weighing and measuring the loose parts with precision and describing the natural properties.
Consider the EYFS framework
In September 2019, the early years inspection framework changed, putting an added emphasis on the Intent, Implementation and Impact (3 I's) of all planned activities that early years practitioners provide in their settings.
Even if you are simply planning a fun and educational activity at home, with your own children, it is good to consider these 3 I's and how they will increase the learning opportunities for all children regardless of their age.
Intent – Why are you doing the activity?
Implementation – How do you intend to carry out the activity and what do you need to make it successful for all the children?
Impact – What went well and how could you change things next time?
Think of an activity as a who, what, where, when scenario and encourage Awe and Wonder into all that you do.
Consider the season
We use our mud kitchen in all weathers and seasons and adapt the play in accordance with this. Ice play is fun in all seasons and can be used in a variety of ways.
To incorporate maths into it further why not try freezing some number counters into your own ice cubes?
You could weigh out salt or measure warm water in jugs to then melt the ice. Discussing volume and weight as the children play with your volume measuring kit.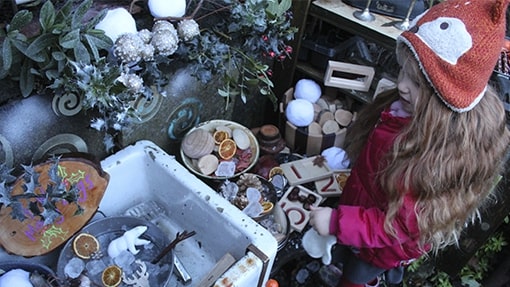 Mud kitchens can be used to encourage group learning and social skills can be developed as children learn together in cooperative play.
Working with a baby? Create an area suitable for them to join in too. Use playground matting, an outdoor picnic mat or some off cuts of carpet to make a soft and safe area. Use larger loose parts such as mirror blocks and magnifiers to encourage early exploration.
Babies love to explore and to be around other children, encourage this by letting them get involved. Give them some pots to bang together and remember this is a sensory experience. Mud, paint, and gloop washes away, the cognitive connections made during these activities will last a lifetime. Babies and young children need to make sense of their world. You are their facilitator in this learning journey.
Sink play
Sink play can be a great way of encouraging Messy Maths, the same mathematic areas can be investigated, and children have a fun and engaging learning experience.
The ultimate goal in any play activity is to encourage the development of the early years outcomes. As a practitioner you can best do this by understanding the characteristics of effective learning and by encouraging active learning through play and exploration, creating the thinkers and doers of the future.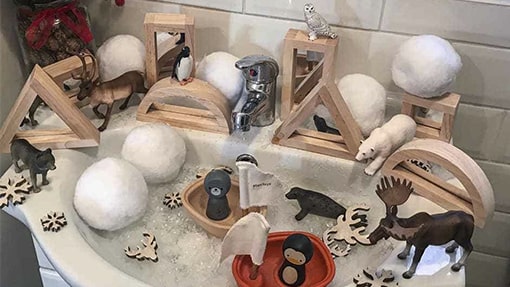 from @mamasden – Jennifer is a registered childminder and has worked with children in this role since 2011. The experienced childminder provides an exciting and nurturing space for children to play and learn in. She uses her secure knowledge of child development to plan a curriculum that ignites children's interests and challenges their curiosity.
When looking at Maths, it can be linked with natural resources in a way that is reflective of a forest school approach, but can also always be done on a smaller scale with a play table or play tray. When in nature we can gather leaves or twigs to count and compare. Indoors, we may have resources to hand that we can count, add, subtract and compare, or bring home the leaves and twigs from your woodland adventures.
read more