If you're not sure what E.a.R.L is, E.a.R.L is our very special, own-developed coding robot… and we love him. The main reason for our love is that he can be used to deliver a number of parts of the Computing Curriculum. He knows his purpose, and he wants to help! Oh, and he's really cool to look at, which obviously means the children will love him too…
E.a.R.L can benefit classes who are teaching for the outcomes listed below, but he can also be used to support areas outside of the standard curriculum and EYFS areas. His compatibility with the Scratch coding program will also help to create a seamless transition through from programming to coding via EYFS, Key Stage 1 and Key Stage 2 learning.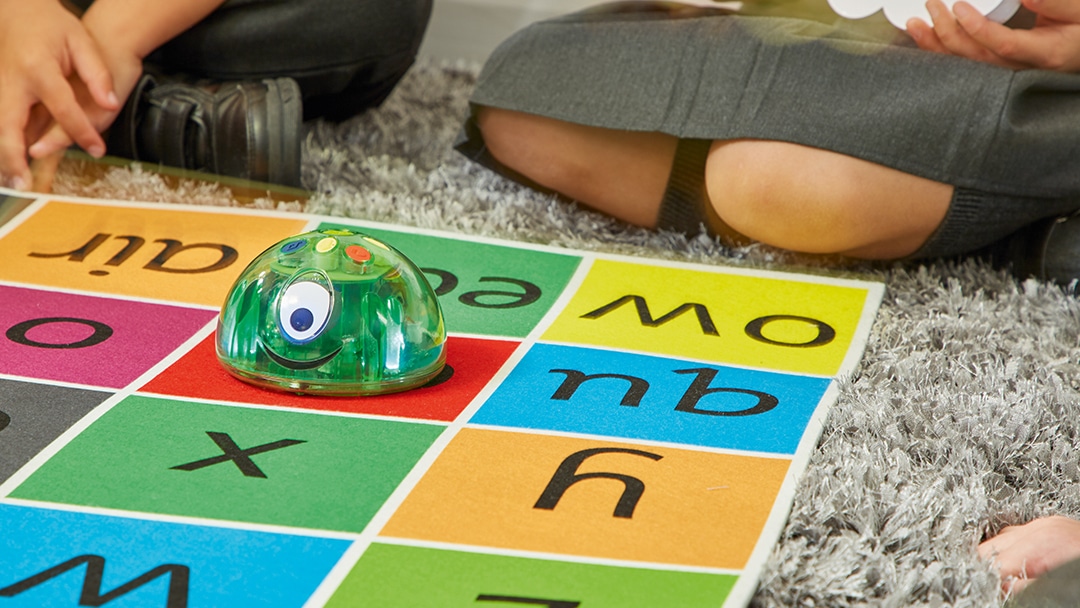 Key stage 1
E.a.R.L can assist your KS1 teaching by helping children to:
understand what algorithms are, how they are implemented as programs on digital
devices, and that programs execute by following precise and unambiguous instructions
create and debug simple programs
use logical reasoning to predict the behaviour of simple programs
Key stage 2
He can also help in KS2 by aiding children to:
design, write and debug programs that accomplish specific goals
control or simulate physical systems
solve problems by decomposing them into smaller parts
Building on children's previous experiences
Prior to their first encounter with E.a.R.L, most children will have had some experience of cause and effect, such as remote-control cars or electric-powered toys. This will help when discussing action/reaction with groups of children i.e. "if I do this… then the robot does that."
Putting into context some of the everyday items that children will be aware of (and sometimes treat passively) can help them to understand the things they can do with E.a.R.L. Talking about 'real world' technology in relation to tasks can give children a deeper understanding e.g. how a TV remote or a tablet device is a type of control.
Learning by sounds and lights
E.a.R.L comes programmed with a whole host of lights and sounds, which helps to keep children engaged for entire lessons. Unlike other floor robots, he comes equipped with his own onboard MP3 player, which you can use to easily program your own choice of sounds into him! Take time to play around with this great feature, try funny, vehicle or animal noises – they are sure to be a hit with children of all ages and another different way to teach!
Using activities and mats for challenges
As soon as E.a.R.L lands in your classroom and children begin interacting with him, new skills can be learnt and built upon with hundreds of activities. We're always working on our series of activities to do with E.a.R.L which we're happy to say will be available forever, for FREE. We also have a range of mats that can help you to teach all areas of the curriculum, including maths, English, and of course, ICT.
First up, set simple challenges for the class. Try a Number Line mat to give children a basic counting exercise, limiting the challenge to only forward or backward commands until it's mastered. Square mats are a more complex version of this, so move on to those next. Moving on to a square mat brings in 90 and 180 degree turns – so keep the tasks easy for now e.g. can they move E.a.R.L two squares forward and turn left but stay there?
Using E.a.R.L makes it easy to adapt to the skill levels of your class, you can choose to set challenges for a longer or shorter distance or even, more or fewer turns. Trial and error will help the pupils to understand and may help them to communicate with each other on what is going wrong/right – which is key for that important early teamwork and leadership skills.
Once you're happy with the progress made by the group, let the children set their own challenges for each other…
The possibilities for E.a.R.L are endless, let us know how you're helping children to learn with him by tweeting us or commenting on our Facebook page.