7 good story starters for KS2 and free writing
Is there anything more intimidating than a blank page and the request to write a story? Okay, lots of things. But have you ever actually tried it? Cue a blank mind and a stationary pencil. But story writing can be incredibly enjoyable, and it's a great opportunity to let your pupils be creative and imaginative. We've put together some good story starters for KS2 to help your pupils with writer's block. We've also got KS1 story starters covered too, if you have some younger pupils.
Read past the story starters and you'll also find a guide to free writing that you can use alongside the story starters. Jump start your story writing lessons in KS2 today!
7 story starters for KS2
The three of them peered into the dark cave.
Suddenly, it turned around and faced her.
Time stopped. People stopped. Cars stopped. Everything around me paused, frozen in time.
The creature screamed and ran towards them.
Her stomach dropped.
I had never seen an alien. But I guess there's a first time for everything.
Am I in hell?
All children need is a tiny prod in the right direction and they will come back with the most amazing tales for you to laugh, cringe, wince or cry at! Feel free to expand upon and adapt our examples; we are only prodding you to get the creative juices flowing. There are lots of fantastic story starters from the Literacy Shed, if you're looking for more to use.
Free writing to help with story writing
If after you have given children story starters, they are still struggling, it could be a confidence issue. Free writing is a fantastic way of freeing children of their own worries over their own writing.
Principles of free writing
Free writing is pretty much what it says on the tin. But there are some principles to stand by to ensure free writing has the desired effect of kick-starting creative juices. Children are given a writing implement (whatever they feel most comfortable with) and something to write on and told to write. Just write. Here's a few pointers to make clear to children before they begin.
Don't stop writing during the allotted time.
You're going to time the free write and encourage those who stop to think to keep going.
If that means writing the same word or letters over and over until a new thought comes into the writer's head, then so be it.
The work won't be marked, or even looked at if the writer doesn't want it to.
Spelling, punctuation and grammar doesn't matter.
Last tip: if your class are adhering to the rules okay, have a go yourself! It's really good practice to have a go at the activity you expect your pupils to have a go at, plus it's really enjoyable!
It's good to start off with short one-minute bursts of free writing in the beginning. Demonstrate you mean what you say with marking, SPaG and reading out: it's an unusual experience for pupils for their work not to be scrutinised. This activity will help pupils empty their head of worries, ruminating thoughts and distractions from their writing. It might also provide them with inspiration for story writing. Have a go at free writing before beginning any creative writing session, or even use it to begin a story. Provide them with the story starter and then get them to continue the story writing during the free write. It's only a minute or two and could make all the difference to their writing.
If you're looking for more resources to help with story writing in your classroom, check out our full range of story writing resources including products from the fantastic Pie Corbett.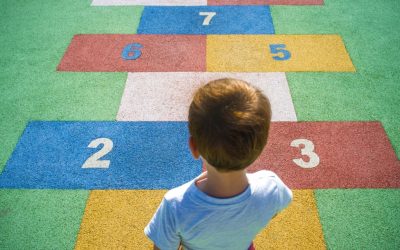 It's not always easy to create excitement around maths, but with these fun outdoor maths activities, it's a cinch! Try them out today.
read more