6 fun outdoor maths activities
There are millions of ideas for fun maths activities, but you can really get the class excited with outdoor maths activities. Outdoor maths offers up so many fun and simple opportunities for learning many maths topics: from number and place value to measurement. It's also the perfect opportunity for children to enjoy the outdoors and become more mindfully connected to nature. The DfE agrees, too, "We believe that every young person should experience the world beyond the classroom as an essential part of learning and personal development, whatever their age, ability or circumstances."
So, grab your coat and brolly and get ready for our collection of fun outdoor maths activities to try out with your KS1 pupils.
Introducing outdoor maths
Taking a class outside can often ensue serious excitement. That's usually because it's not a common activity. If you make it common for your pupils, you might find that initial excitement is calmed a little, making way for some fun maths learning. Regularly timetable outdoor maths and layout your own ground rules for outdoor maths lessons from the get-go.
Then, use our list of fun maths activities to use with KS1 pupils.
Use nature as part of your outdoor maths activities
Use grass, sticks and flowers to practice measurement and consolidate understanding. Get pupils to record the length and height of plants and flowers. You could also set challenges like finding the longest stick, or how many different types of flowers are there. This is also a great opportunity to ignite the green fingers of your class; discuss flower types and tree names.
Use the school sandpit for making maths fun
Much like the flowers, plants and sticks, the sandpit can be used for measuring activities, but it can also be used to hide fun objects for counting or answers to sums on a worksheet. Get creative and don't be afraid of a little mess; the best maths lessons are the ones where effective learning takes place in amongst some serious fun.
Get active in your outdoor maths lessons
You could build an obstacle course for your pupils and then practice directional and positional language. Pupils could be put into pairs and one pupil must guide the other through the words they choose. Why not throw in some time practice, and time who's the fastest?
Investigate the different leaves on the playground
Leaf sweepings is not only helpful to the site management team, it's also a great outdoor maths activity. Give children containers and get them to collect as many leaves as they can in a set time. You can then question who has the most for counting practice, but you can also integrate some science into the lesson and look at the different properties of the leaves.
You could also look at identifying the leaves and the trees that they have fallen from.
Draw big or go home
Use outdoor chalk to challenge children to draw a huge clock. You could use the children as the numbers, or even as the hands as they slowly move around the giant clock face. You could also draw huge shapes on the playground and get children to identify them. With outdoor chalk, the opportunities are endless, and you only need a good British rainfall for a clear canvas.
Use the children as the outdoor maths activity
Make maths really fun and use the children themselves to explore different topics. The great thing about taking maths outdoors is that it gives you tonnes more space than you would get in the classroom. Take to the playground and use bodies for making fractions or to make the shapes of operations such as + or -.
These fun outdoor maths activities are sure to make your maths lesson unforgettable. If you've got any great ideas for using maths outdoors, we're all ears! Tweet, Instagram or Facebook your favourite outdoor maths activities and we'll be sure to share them.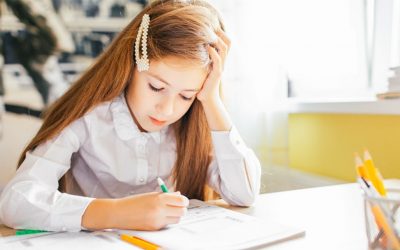 Creative writing is such a joy to teach, but as a pupil, a blank page can be intimidating. Start them off with one of our good story starters for KS2.
read more