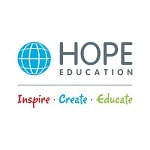 Helen Graves
Food blogger
Helen Graves is a renowned food blogger, recipe specialist and the owner of the popular Food Stories blog.
Teachers are some of the busiest bees in the hive. Often, we're left with little time to eat our lunch, never mind actually prepare a healthy meal that's vital to fuelling our day. We all know how important it is to ensure we eat correctly during the day; it contributes to good wellbeing and overall health, but we think that time constraints make it out of reach.
However, making a healthy teacher lunch is easier than you think. Here, food blogger Helen Graves gives you five recipes that can be prepared at the start of the week or the night before and eaten each day in that tiny gap that you get to call 'lunch'.
1. Rainbow Vegetable Salad with Maple Syrup and Chilli Dressing
Makes 2 servings
It's the dressing that makes this salad exciting – a sweet, sour balance of maple syrup and lime juice with a warming kick from the chilli flakes. If you want to make this the evening before, keep the dressing, seeds and herbs separate from the vegetables and combine everything in the morning.
Ingredients:
¼ red cabbage, core removed and finely shredded
1 medium carrot, peeled and grated
½ red onion, peeled and finely sliced
1 yellow pepper, finely sliced
Small handful mint leaves
Large handful coriander leaves
Generous handful of pumpkin seeds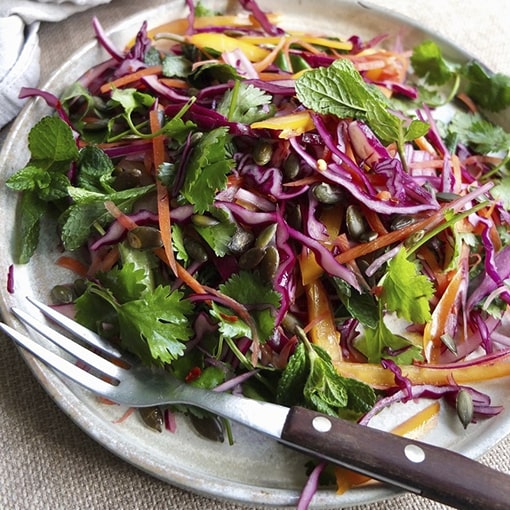 For the dressing:
1 tablespoon maple syrup
2 tablespoons olive oil
3 tablespoons lime juice
1 teaspoon soy sauce
2 teaspoons chilli flakes
1 teaspoon sesame oil
Method:
Step 1
Put all the dressing ingredients into an empty jar, put the lid on and shake vigorously to combine. Set aside.
Step 2
In a small frying pan, lightly toast the pumpkin seeds over a medium heat, moving them around to prevent burning. After a couple of minutes, turn them off and set aside.
Step 3
Combine all the vegetables and herbs in a large bowl, then add the dressing and the pumpkin seeds. Mix well.
2. New Potato and Egg Salad with Dukkah
Makes 1 serving
This simple, filling salad packs loads of flavour thanks to the dukkah, an Egyptian spice and nut mix which is fantastic on lots of dishes. This recipe will make a big jar of it that you can use in other recipes – try it on eggs for example, or with hummus and pitta bread. Store the dukkah in a separate container and add it just before eating to preserve the crunch of the nuts.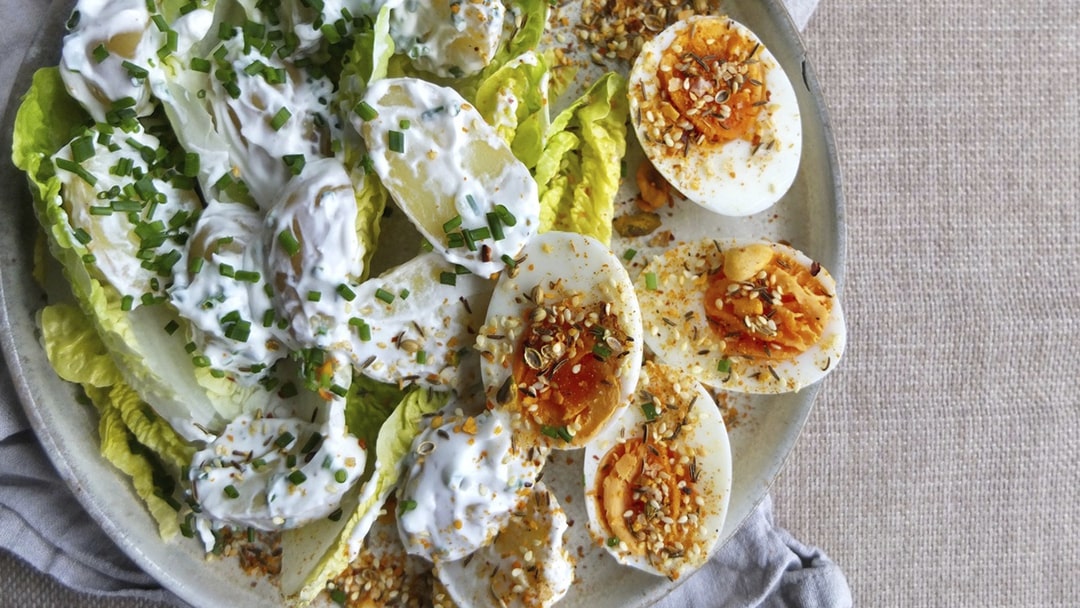 Ingredients:
6 small new potatoes
2 hard-boiled eggs
A few crunchy lettuce leaves, such as Little Gem
2 tablespoons natural yoghurt
1 tablespoon mayonnaise
1 tablespoon finely chopped chives
For the dukkah:
Use a standard teacup or mug if you don't have measuring cups – it's the ratios that are important.
1 cup mixed hazelnuts, pistachios and pine nuts
1/2 cup sesame seeds
1/4 cup cumin seeds
1/4 cup coriander seeds
1/4 cup Maldon salt (or other good sea salt)
2 teaspoons chilli flakes
1 teaspoon turmeric
1 heaped teaspoon ras el hanout
Method:
Step 1
Cook the potatoes in boiling salted water, then drain and allow to cool.
Step 2
Place the eggs in a saucepan full of cold water. Bring to the boil, then cook for 5 minutes. Place in a bowl of cold water, then peel.
Step 3
Combine the mayonnaise, yoghurt and chives. Slice the potatoes in half and add them too, mixing well.
Step 4
Combine all the dukkah ingredients.
Step 5
Serve the potato salad and eggs on top of the crunchy lettuce leaves, and sprinkle with as much dukkah as you like.
3. Salmon and Cucumber Rice Noodles with a Citrus-Miso Dressing
Makes 2 servings
This salad is very easy to assemble and quick thanks to the ready-cooked salmon fillet. You could try varying the vegetables – Tenderstem broccoli, sugar snap peas or avocado all work well. If making this the night before, keep the herbs back and add them in the morning.
Ingredients:
2 nests (approx 130g) rice noodles
2 ready cooked salmon fillets, skin removed
½ cucumber, deseeded and finely sliced
4 spring onions, finely sliced
Handful mint leaves
Handful coriander leaves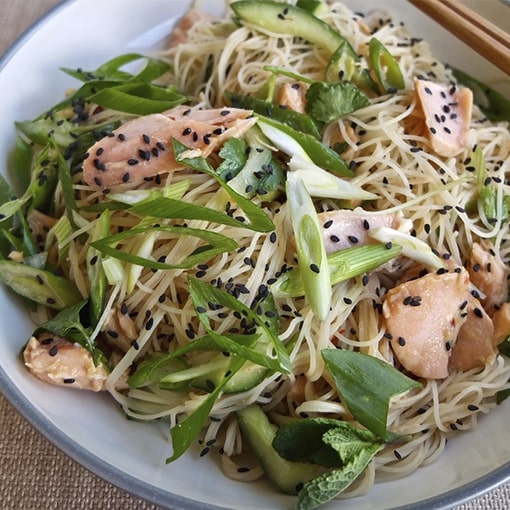 For the dressing:
2 tablespoons white miso
1 teaspoon soy sauce
3 tablespoons lime juice
1 tablespoon sesame oil
A small 'thumb sized' piece of ginger, peeled and grated
Pinch chilli flakes
1 tablespoon cold water
Method:
Step 1
Place the noodles in a bowl and cover with boiling water while you prep the rest of the ingredients.
Step 2
Place all the dressing ingredients into an empty jar, put the lid on and shake vigorously to combine. Set aside.
Step 3
Combine the cucumber, herbs and spring onions and flake in the salmon. Drain the noodles then add them along with the dressing. Mix well.
4. Grilled Chicken Thigh with Lentils, Yoghurt and Green Sauce
Makes 2 servings
Flattening the chicken thighs makes them cook much faster, and using ready cooked lentils means this filling salad comes together very easily.
Ingredients:
4 skinless, boneless chicken thighs
Approx 230g cooked green lentils (drained weight), rinsed under cold water
2 tablespoons natural yoghurt
For the green sauce:
Large handful parsley leaves (some stalks are fine too)
6 anchovy fillets
Small handful basil leaves
Small handful mint leaves
1 fat clove garlic
1 tablespoon red wine vinegar
1 teaspoon Dijon mustard
3 tablespoons olive oil
1 tablespoon cold water
Method
Step 1
Lay the chicken thighs flat on a chopping board and use something heavy like a rolling pin to bash them until they're the same thickness all over. Season with salt.
Step 2
Heat a non-stick frying pan, skillet or griddle pan over a medium-high heat. Cook the chicken thighs for 4 minutes each side, or until cooked through. Set aside to cool a little, then slice.
Step 3
Make the green sauce by combining everything in a blender and whizzing to a sauce.
Step 4
Divide the lentils, sliced chicken, yoghurt and green sauce into two portions and serve.
5. Cheat's Banh Mi Sandwich
Makes 1 serving
A product of French colonial rule in Vietnam, the banh mi combines French bread, pâté and mayonnaise with Vietnamese pickles, chilli and herbs. It's one of the world's great sandwiches, and this is a quick and easy version. Make the pickles the night before to get ahead, and assemble the sandwich in the morning.
Ingredients:
1 small baguette
6 slices Mortadella
Pork pâté
Mayonnaise
¼ cucumber, deseeded and sliced
Small handful mint leaves
Small handful coriander leaves
Sliced red chilli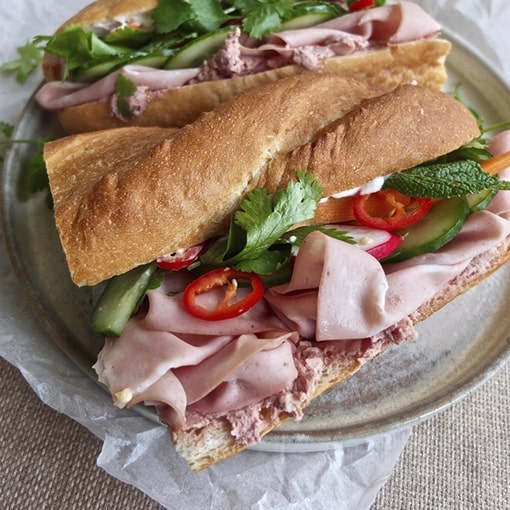 For the pickles:
A small handful of radishes, sliced
½ carrot, peeled and cut into thin matchsticks
3 tablespoons rice vinegar
5 tablespoons water
2 teaspoons caster sugar
1 teaspoon sea salt
Method:
Step 1
Combine all the pickle ingredients in a small bowl and leave to pickle overnight (if you forget to do this, then even 10 minutes of pickling will work fine).
Step 2
Split the baguette and spread pâté on one side and mayonnaise on the other. Layer up with mortadella, cucumber, herbs, chilli and pickles.
Let us know if you manage to create any of these amazing recipes by finding Hope Education on Facebook, Instagram or Twitter .