5 ways to develop vocabulary skills and create a language-rich classroom
Creating a language-rich classroom environment often means making a conscious effort to ensure maximum exposure for pupils. Techniques for vocabulary development give teachers the power to foster a wider breadth of language in pupils.
A language-rich classroom environment improves a child's ability to:
communicate effectively
write with meaning
reach their full potential across the curriculum.
Here are some of the simple things that can be incorporated into your everyday teaching practice that will help increase vocabulary and foster that all-important language-rich classroom environment.
1. Ensure a diverse classroom library
A wide variety of fiction and non-fiction is a good start, but It's also important to include a wide variety of authors and genres, too. In every classroom, there will be similar sorts of readers: the reluctant reader, the only-non-fiction reader, the old-reading-age reader, or the I-only-like-this-author reader.
A diverse library encourages all readers to break out of their reading pattern and exposes them to a world of vocabulary they may not have had experience of before. It is also helpful to read as many books in your book corner as you can; you can then make great recommendations, particularly for those pupils who (think!) they don't like reading.
2. 'Magpie' during any reading session
Whether you're reading a book to the whole class, or you're holding group guided reading sessions, always be on the lookout for new words and phrases that could be 'magpied' and used in pupils' writing later. Encourage pupils to speak up if they spot a word they don't understand, or they think is particularly effective and create a display of 'magpied' ideas that pupils can use in their own writing later on.
3. Utilise word game resources
Word games are particularly helpful in exposing pupils to words they might not normally come across. When teaching vocabulary, exposure to language commonly needs to be meaningful, deliberate, engaging and repetitive. Word games tick all the boxes on this front. You can use board games commonly found in the home, like Junior Scrabble, or you can take advantage of the many word games specifically created to increase language development in the classroom.
4. Explore etymology
Looking at the origin of words is a great way to explore history and different cultures all whilst expanding vocabulary and helping the development of spelling. In the National Curriculum in England framework for key stages 1 to 4, etymology is referenced as early as years 3 and 4. Try tying in etymology work with your topic; the Ancient Greeks is perfect for this, for example. You can also use Word Origin Dictionaries to mix up your dictionary work.
5. Have a conversation
Having a conversation with your pupils isn't just a way of getting to know what makes them tick, it's also an opportunity for them to use all the language they have been learning in a natural and unstructured manner.
If conversational skills are a particular area for improvement, Conversation Cubes can be a fantastic way to involve the class, as it helps structure conversation and encourages quieter students by providing a specific topic to focus on. Modeling good practice in conversational skills is just as important as any other area of the curriculum. Don't be afraid to correct and model skills like eye-contact and appropriate responses.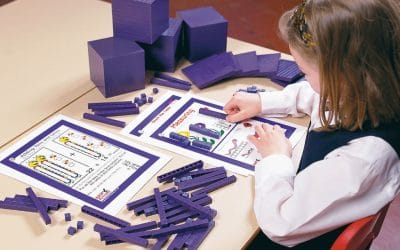 Maths mastery originated in high-performing nations in Asia, but what is maths mastery? And how can it be used in the UK to improve maths skills?
read more