8 ways to play: Mirrored Play Tray Mat
With a diameter of 800mm, our Mirrored Play Tray Mat is designed to fit perfectly into our Play Tray. The tray or the mat, however, can be used on their own and are ideal for discovery and messy play.
We sent Maddy at @mayasmoonplay one of our mirrored play tray mats and she began thinking of innovative and creative ways to make the most of it with her little ones. Maddy explained to us that she loves how the mirrored mat has added dimension to her play tray, and how it stood out amongst anything else added on top. Maddy and her children then came up with multiple ways to enjoy the mirrored play tray mat, and here are our favourite ideas:
1. Rainbow Writing
Outdoor is a great place for children to paint, draw and colour, as nature gives them all the inspiration that they need to be creative, however this idea works perfectly indoors, too. Maddy used this outside with her children and got them to draw things on the mat which looked like they were in the sky, like a rainbow, birds, sun and clouds. Classmates paint sticks are great for this, as they work well on the texture of the mat but can also be removed easily.
2. Tunnel Reflections
Rainbow shapes work well on this mat because their semi-circle shape create the look of a whole circle due to the reflection. Maddy described it as "creating a tunnel" on the mat, which fascinates children and creates wider opportunities for imaginative play. The Rainbow Architect Arches are perfect for this, and can be stacked on top of each other, side by side or in a row. This activity also works well with the rectangles, squares and triangles, which can all be bought separately or in a great bundle offer which includes the rainbow and natural buttons.
3. Disco Time
Maddy's daughter, Maya and her father decided they would use the play tray mat to create a disco. This time, they didn't even use the play tray… just the mat! They placed a disco ball with lights on it and watched as "Maya was mesmerised by the lights dancing off the reflections". You can add our light-up rotating projector ball for a real sensory effect!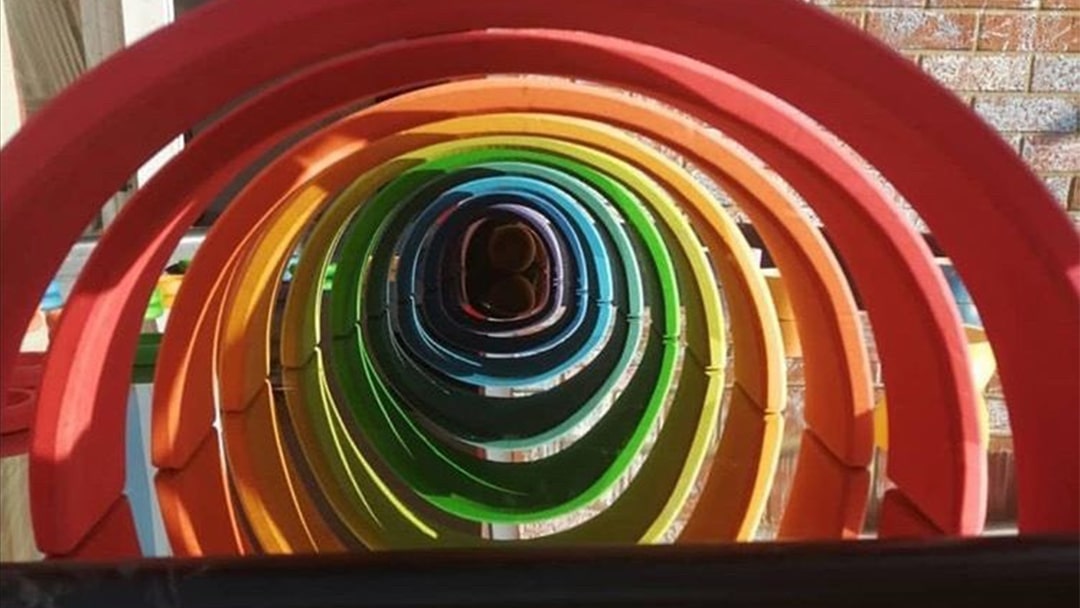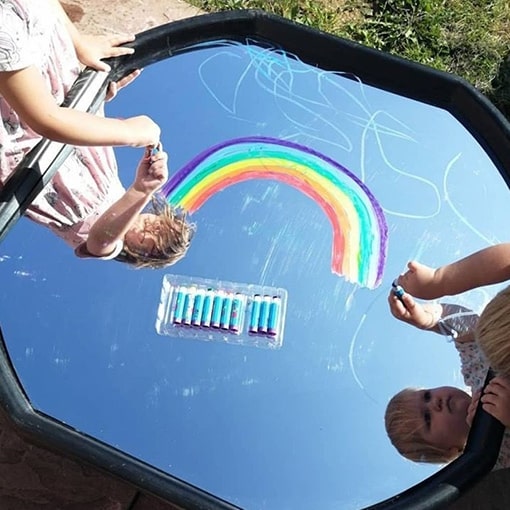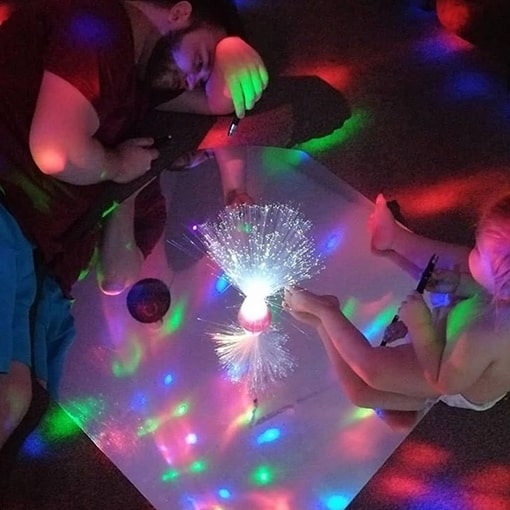 4. Sensory Clouds
Suitable for all seasons. The Mirrored Play Tray Mat is a great way to explore different weather with your children. Maddy and Maya decided to use it to explore clouds, rainbows and sunshine. When it's placed outside, the mat reflects the sky, so on a sunny day you could add your own clouds, or on a cloudy day, add your own sun! To create clouds, they simply used bubble bath and water. Another idea to try would be whipped cream or our crazy soap (3+).
5. Coloured Rice
The reflection of the coloured rice almost makes it seem like there's double the amount in the tray, making it look so much more colourful than if you were to simply place it on a black play tray. The mirror effect adds more dimension and colour to whatever is inside your play tray, allowing you to create beautiful small world scenes, loose parts play scenes and messy play areas.
6. Day at the Seaside
Maddy and Maya went to the seaside before they came up with this idea. Maddy thought it would be a nice idea to collect parts of the beach whilst they were there, so that they could re-create the scene the next day at home. They collected shells, before adding their own sand and sea creatures to the play tray. The mirrored mat reflected the actual sky (and luckily it was a sunny day), so the seaside scene ended up looking great! They also drew a sun and some seagulls to really bring the set-up to life. You don't need to go to the seaside to recreate this though, you can find shells and sand on our website.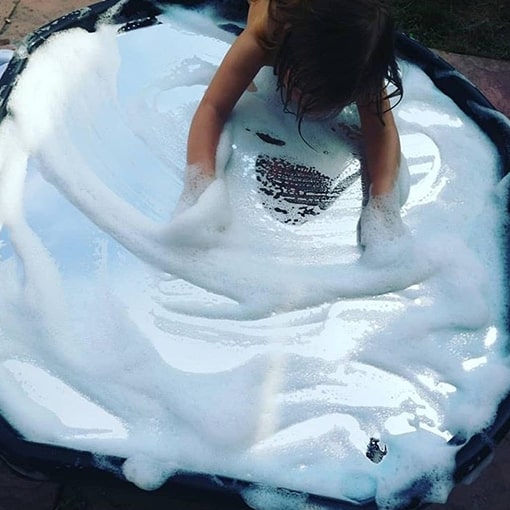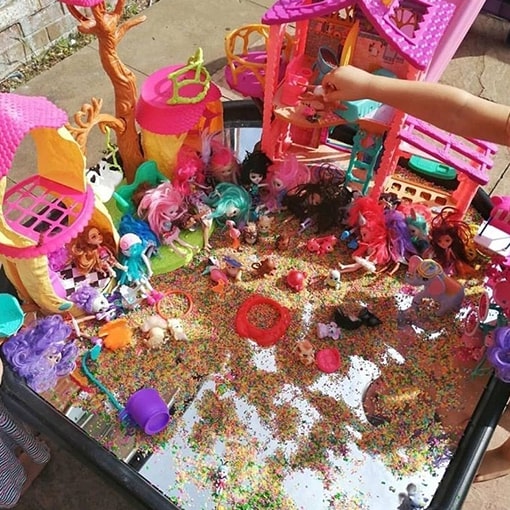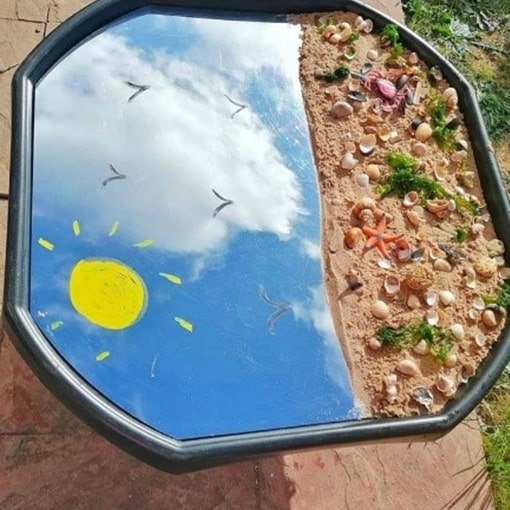 7. Target Practice
Brilliant for hand-eye coordination, physical development and concentration. Maddy drew a rainbow target on the mirrored play tray mat, before giving Maya a water-pistol to aim with. She stood the play tray up, so it rested against the wall in her garden and allowed Maya to see her own reflection whilst she aimed for the target. Practicing gross motor skills never looked so fun!
8. Fishing
This time they added water! Perfect for a sunny day, the sky reflects onto the mirrored mat and creates a perfect pond-like play tray. Add some fish, boats, and nets to the mix, and begin fishing. You can use pond nets or even our sand and water play set which includes scoops, buckets, rakes, sieves and a watering can! Maddy said that her children loved the effect of the water and enjoyed seeing how their own reflections changed, making their faces look funny!
Hope Education are always working with creative early years enthusiasts like @mayasmoonplay to come up with innovative play ideas. If you want to see more how-to ideas and creative play inspiration, make sure you follow our Instagram.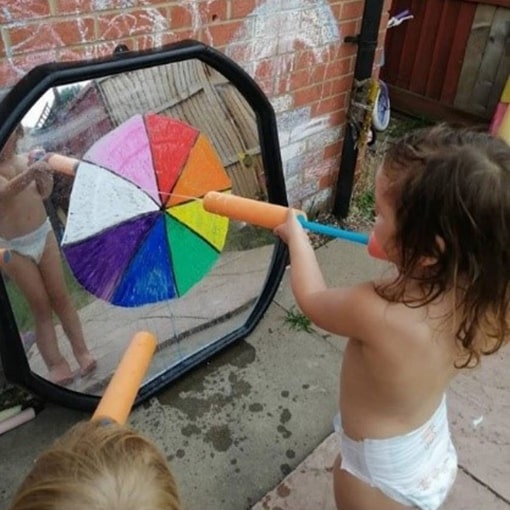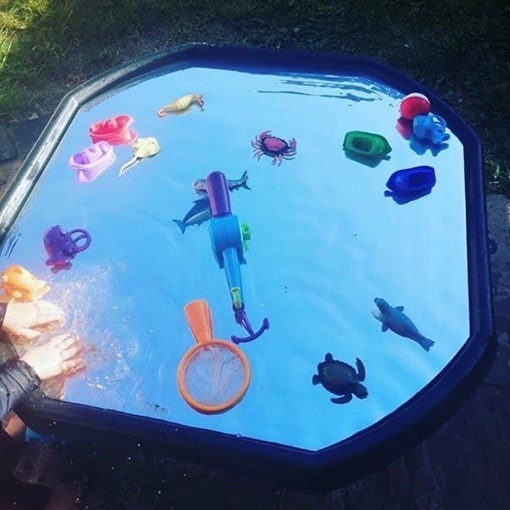 When looking at Maths, it can be linked with natural resources in a way that is reflective of a forest school approach, but can also always be done on a smaller scale with a play table or play tray. When in nature we can gather leaves or twigs to count and compare. Indoors, we may have resources to hand that we can count, add, subtract and compare, or bring home the leaves and twigs from your woodland adventures.
read more